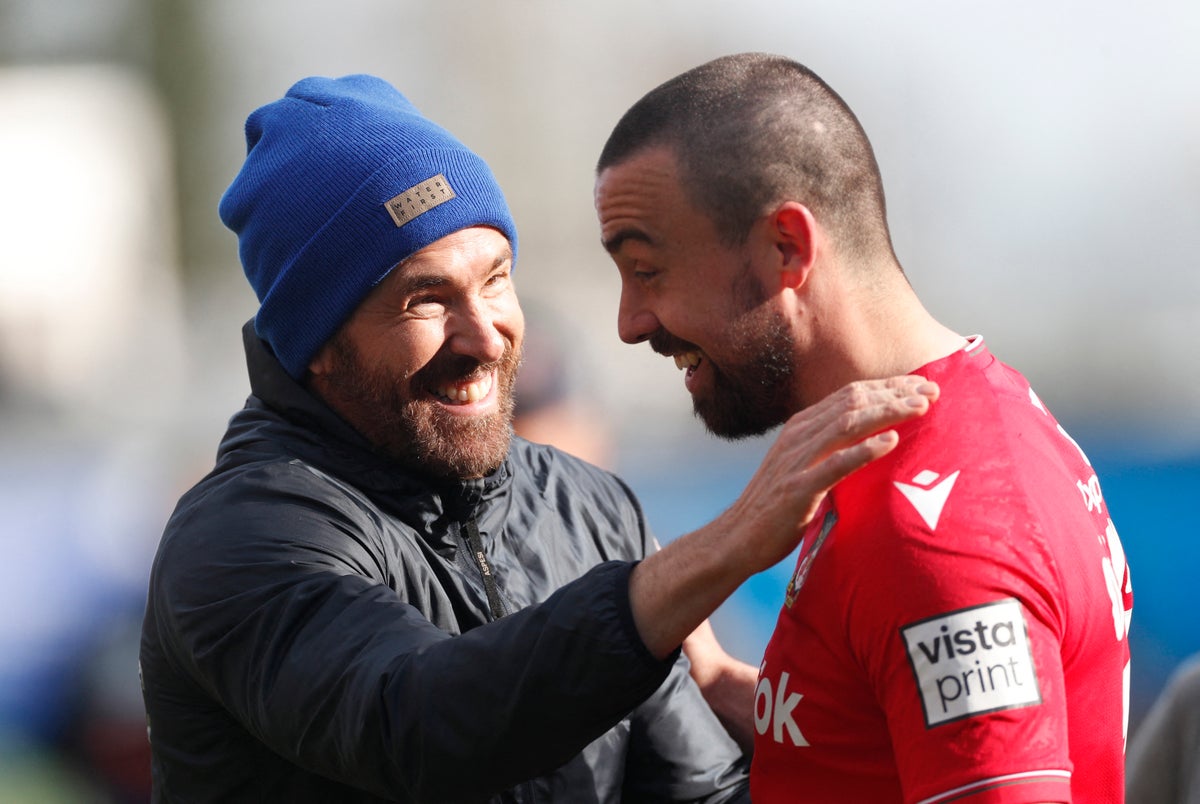 Cedwyn Scott, Notts County's last hope, redressed the ball on the spot 12 yards out, standing over a chance to salvage promotion dreams that were beginning to fade. The visitors had begun the day top of the table, level on points with their hosts but knowing Wrexham had a game in hand likely to prove crucial as the two clubs vied for the National League title and a single automatic promotion place.
High in the stands Wrexham's Hollywood owners gnawed at fraying fingernails, hearts thumping on the timpani in the tension, Ryan Reynolds and Rob McElhenney unable to watch. Scott stepped up and the pair could finally bear a glance, swivelling with eager eyes as goalkeeper Ben Foster guessed right to save the penalty and Wrexham began to celebrate a 3-2 victory to put the title very much in their hands. A goalless draw at Barnet and then a win over relegated Yeovil has now put the Red Dragons one victory away from promotion to the EFL.
Their first chance to clinch promotion comes on Saturday against Boreham Wood at the Racecourse Ground, before a final day trip to the seaside to take on Torquay.
"That was just bananas," Reynolds gasped as he and Foster embraced in the tunnel following the win over Notts County. "That was the most dramatic thing I've ever seen in my life. I couldn't watch – and then I turned just in time to see you. I'm never going to be the same again."
You could, of course, have scripted it. Foster's intervention was ripped from the pictures, an ageing hero called out of retirement for one last job. But that made the climax no less sweet as the Racecourse Ground roared. Perhaps there will be another twist to come before the trophy is lifted, but for now this felt the perfect end scene to Wrexham's fairytale.
It was easy to scoff when Reynolds and Rob McElhenney completed their takeover at the Racecourse Ground, dismissing it as a publicity stunt and a decision that seemed as much motivated by a desire to expand their entertainment portfolios than any deep love of football.
And, indeed, it would have been far easier for the pair to play the distant sugar-daddies, bankrolling the club from the Hollywood hills, hopping in when convenient to enhance their reputations or spike on social media. Neither at all needs this venture – there are off-the-wall sitcoms to write and superhero franchises to front.
But the pair have proved not just genuine Hollywood stars, but genuine football people, too. To see them rapt in the drama of a top-of-the-table clash that meant so much showed how they have bought in, having keenly felt the lows of last year's promotion near miss. Their qualities have been shown in their investment in the town more widely, and in the support of a women's team making their own rise through the ranks.
That it is Wrexham, too, feels somehow pleasing, the oldest club in Wales revitalised. The now-city has always been a curious conurbation, a little betwixt and between in the borderlands, but football has always played a central societal role. The club may never have been in the English top tier but in the club are embedded more than 150 years of sporting history, a team that has experienced the ups and downs true to so many smaller sides in lower and non-league football.
Sporting success can bind communities like Wrexham, reshaped over the last half-century in a period of such significant cultural evolution. Football can form a much-needed link to days that now feel distant, bringing recollections of familial treks down familiar streets to get to the game, the sharing of pre-match pies and post-match pints. Equally, the investment and interest has energised new supporters, too, to further enrich and diversify the fabric of the supporter base, reflecting the globalisation of fandom.
All sporting entities yearn for worldwide profile and cultural cut-through and there is such value in the presence of Reynolds and McElhenney in spotlighting the depth and colour of the English football pyramid. Would those watching have been so keenly aware, for example, of Notts County's fight to return to where they feel they belong under their own unconventional owners if not wrapped up in the wider Wrexham story?
"It's just insane to me in this league that only one goes up automatically," Reynolds said to BT Sport, magnanimous in victory and an unlikely advocate for structural reform of the English fifth tier.
"If it were different – and I think it should be – both of these clubs would be celebrating together right now because what they've done is not only created drama unlike anything you'd ever see in a damn movie, but something that I think people will be talking about for ages.
"The fact that this much attention has come upon the National League in this way is incredibly special and immensely worthy of the talents of not only Wrexham, but Notts County as well."
As petrochemical giants and state investment funds squabble over commodities at the top of the game, and venture capitalists threaten to rip up the upper reaches of the sport to benefit the few rather than the many, here is a club rediscovered under two men who genuinely care. Any sneering over Wrexham's owners is misplaced – this is the sort of Hollywood story football should be celebrating.