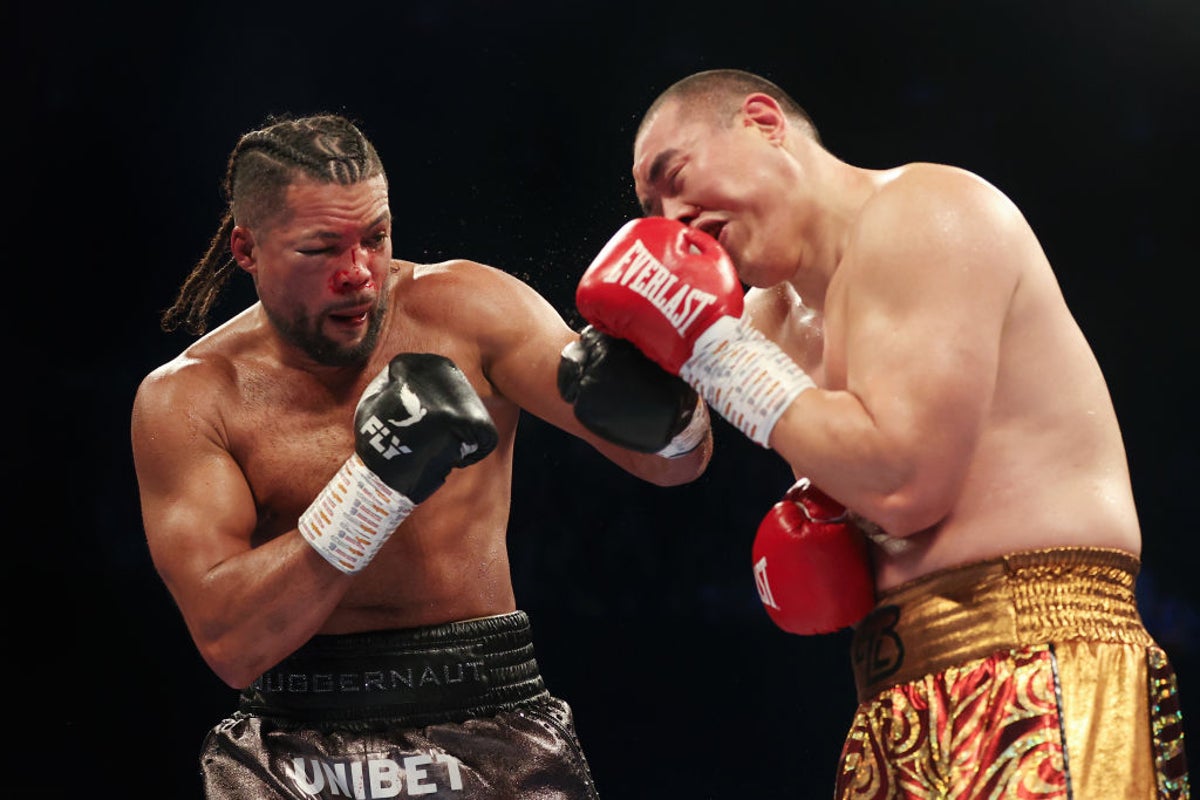 Joe Joyce suffered a shock defeat at the hands of China's Zhilei Zhang on Saturday night, surrendering the WBO interim title after a sixth-round stoppage.
Referee Howard Foster called an end to the bout after doctors twice assessed Joyce's badly swollen eye, leaving Zhang to celebrate an unexpected victory.
Here, we look at what defeat means for Joyce after his first professional loss.
World title hopes fade
Joyce made no secret of the fact that he was already looking past Zhang and towards the prospect of glittering bouts against the biggest names in the game. He was angling to make good on his mandatory contender status against WBO, WBA and IBF champion Oleksandr Usyk and also talked up an all-English battle against Tyson Fury for the WBC crown. Now, he will find his name slipping off the radar for both men and needs to rebuild his credentials before he can justify a shot at the top straps.
Rematch potential
The most obvious route back into the conversation for the 37-year-old is to go back to Zhang and try to put things right. It is harder to see the appeal for the victor, though. At the age of 39, the 'Big Bang' may never have as good a chance at taking his own shot at Usyk or Fury. If Joyce was one win away from setting up a high-profile head to head, why not Zhang? It could take some smart negotiation to line up a return fight and, if that is successful, Joyce's preparations will need to be even better than before. Even overturning the defeat would be unlikely to restore all of his heat, though, with his unbeaten status gone for good.
Confidence booster
If Zhang opts to look elsewhere in the short term, Joyce's smartest play could be building back his morale with a guaranteed win. He was arguably ambitious in agreeing to face a competitor as strong as Zhang at this stage and may have got away unscathed with a lower-profile opponent. If he does go down this route he should seek out a manageable left-hander, having looked thoroughly unprepared for the challenge of a southpaw. He essentially admitted as much in the immediate aftermath of his loss and getting to grips with the shift successfully before trying to topple Zhang could be beneficial.
Payday with AJ
Joyce and Anthony Joshua both came through the ranks as Olympians with Team GB, faced each other as amateurs and were once regular sparring partners. The idea that they will cross paths one more time in the pro arena seems irresistible. Joyce indicated the pairing was on his agenda should he get his hands on a world title, but that timeline may now be shuffled forward. For Joshua, seeing Joyce's vulnerabilities on display could draw him to the table, and the contest offers a tantalising scalp for both men. When it comes to rebuilding a credible world title case and generating outside interest, this option has legs.