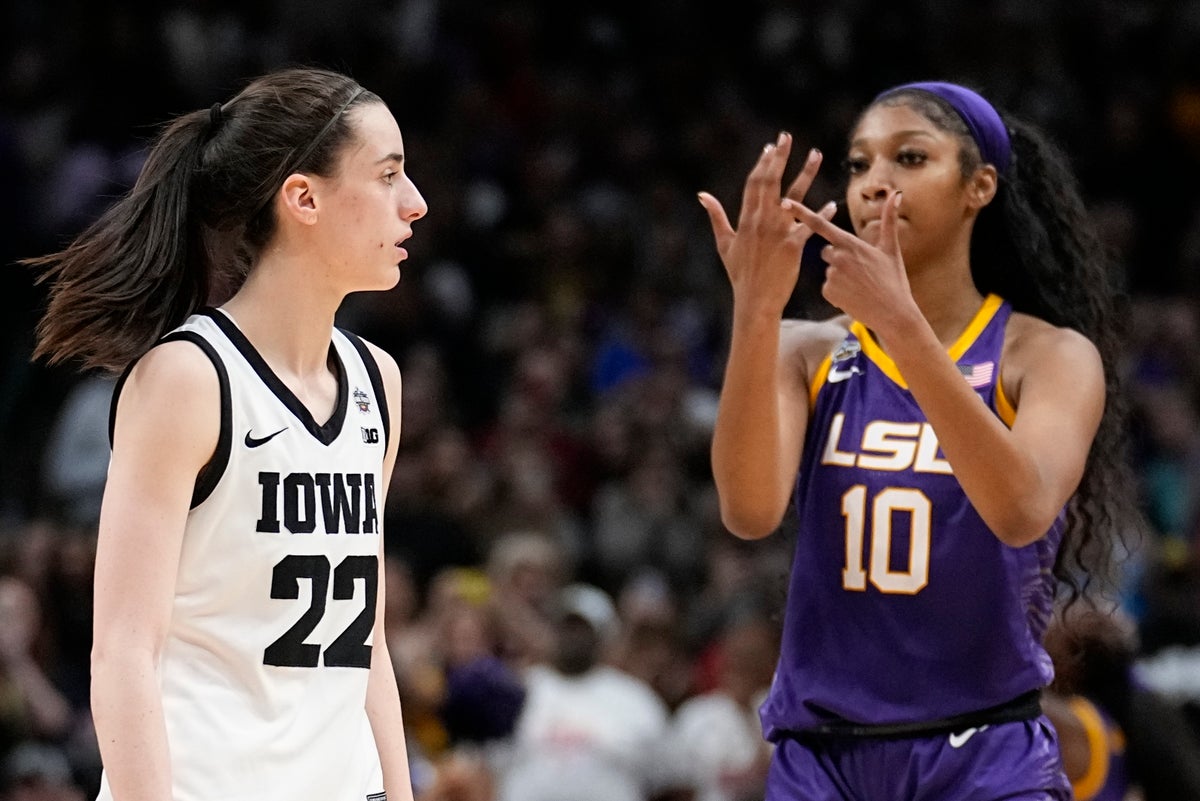 LSU star Angel Reese is not quite ready to let go of her frustration with First Lady's Jill Biden decision to invite the Iowa Hawkeyes women's basketball team to visit the White House alongisde the Tigers.
Dr Biden attended the NCAA Women's Basketball national championship game between the two teams, which LSU won on Sunday by a score of 102-85. After the game, Dr Biden said she would ask her husband, President Joe Biden, to extend a White House invitation to the Hawkeyes too, despite the fact that the ceremonial visit is typically only for championship winners.
Iowa star Caitlin Clark said in the days following the game that she doesn't feel her team should participate in the visit, as did Iowa head coach Lisa Bluder. Dr Biden, through a spokesperson, confirmed on Tuesday that only the Tigers would make the trip to Washington.
"The First Lady loved watching the NCAA women's basketball championship game alongside young student athletes and admires how far women have advanced in sports since the passing of Title IX," Vanessa Valdivia, the first lady's press secretary, wrote on Twitter. "Her comments in Colorado were intended to applaud the historic game and all women athletes. She looks forward to celebrating the LSU Tigers on their championship win at the White House."
But her comments upset Reese — who said on Wednesday that she isn't accepting the first lady's apology of sorts.
"I'm not gonna lie to you, I don't accept the apology because you said what you said," Reese said on the Paper Route podcast. "I said what I said. You can't go back on certain things that you say. I mean, you felt like they should've come because of 'sportsmanship,' right? They can have that spotlight. We'll go to the Obamas."
Reese was a key contributor in the Tigers' victory, posting a double-double with 15 points and 10 rebounds in a game LSU dominated throughout, but made headlines at the end of the game when she made John Cena's "You can't see me" gesture in the direction of Clark — the same gesture Clark had made during a game earlier in the tournament.
But while Clark, who is white, became the face of the tournament after making the gesture, Reese, who is Black, was in many quarters criticised for doing the same thing — prompting a broader discussion about racism in sports media and basketball.
Clark, for her part, said she took no issue with Reese's gesture.
"Honestly I have no idea, and I was just trying to spend the last few moments on the court with especially the five people that I've started 93 games with and relishing every second of that," Clark said in an interview on ESPN.