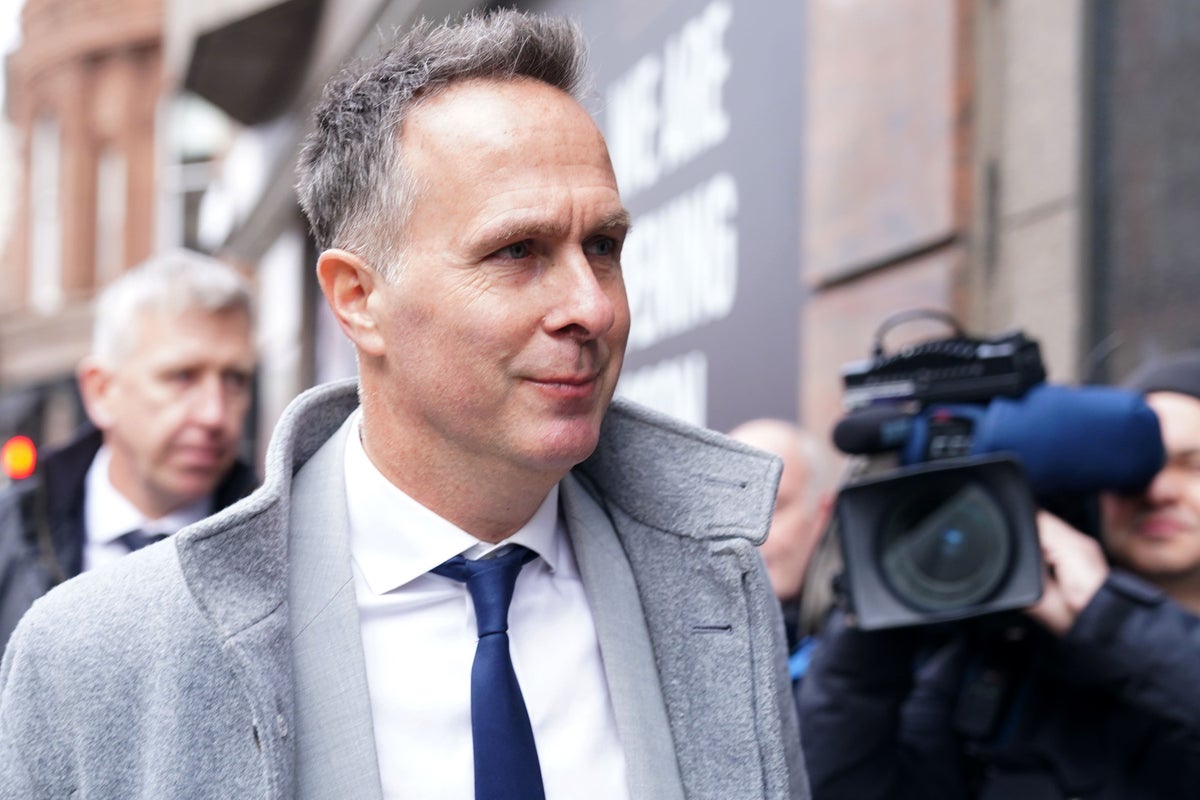 Michael Vaughan's lawyer has criticised the England and Wales Cricket Board's handling of the investigation into the Azeem Rafiq racism case.
Christopher Stoner KC accused the ECB of undermining Ajmal Shahzad as a witness, interfering in changes being made by new chair Lord Patel at Yorkshire and, notably, failing to contact all the relevant people present when Vaughan allegedly said there were 'too many of you lot' to a group of players of Asian ethnicity at a T20 match in 2009.
Former England captain Vaughan, 48, denies an ECB charge of using racist and/or discriminatory language and is set to begin his defence later on Friday.
Stoner, who cross-examined the ECB's director of legal and integrity Meena Botros on day three of the public Cricket Discipline Commission hearing on Friday, said the ECB's case against his client was based on "assumption upon assumption".
Stoner asked Botros about his witness statement, which made reference to Shahzad "notably" stating he did not recall shaking Vaughan's hand at the 2009 match, something which clearly appears in Sky footage of the match obtained by the ECB.
Shahzad was the only one of the four Yorkshire players from an Asian background present – the others being Rafiq, Adil Rashid and Rana Naved-ul-Hasan – who does not recall Vaughan's alleged "you lot" remark.
Stoner pointed out there was no mention in Botros' statement that Rashid could also not recall shaking hands with Vaughan.
Stoner put it to Botros the "clear purpose" of making reference to Shahzad not recalling the handshake was to try to undermine Shahzad's statement.
Botros said: "It's setting out what Mr Shahzad said, what we were trying to put forward as the relevant evidence."
Yorkshire sacked 16 members of staff as the scandal engulfed the club.
Stoner questioned whether the ECB, which should remain independent of action being taken by one of its clubs, had urged Yorkshire chairman Lord Patel to take action, as Lord Patel previously claimed.
Botros said: "I have no knowledge of ECB urging Lord Patel to take action and sack those individuals."
Botros confirmed the ECB's investigation began in September 2021, after Yorkshire had released a summary of the report it had commissioned into Rafiq's allegations in September.
Stoner pressed Botros on the evidence around which the ECB has based the charges against Vaughan.
"The primary evidence of this charge is three of the four players heard it (the 'you lot' comment)," said Botros.
Stoner asked if the governing body had checked the players' phones.
"We have asked for messages for certain individuals," Botros added. "We didn't require anyone to hand their phones to us. Under the CDC regulations that is not a specific power we have.
"Did we ask someone to physically hand over their phone? No."
Stoner asked Botros: "Would you agree that the natural thing when conducting a fair and thorough investigation is to speak to all of the players involved on that day?"
Botros said the ECB did speak to individuals where it was able to, but did not have contact details for all of the Yorkshire team playing on that day.
Botros said the ECB contacted the Professional Cricketers' Association for assistance, but said in some cases the PCA either did not have details for those players or the players did not consent for their details to be passed on.
Stoner also suggested the on-field umpires and the cameraman who filmed the huddle after which Vaughan allegedly made the comment should have been contacted and questioned.
"No-one has suggested umpires were close enough to hear it and watching footage I think it shows the umpires weren't close to the huddle," said Botros.
"There is no suggestion that the umpires heard it and no suggestion the cameraman heard it. We assumed he would have headphones on."
Stoner asked Botros whether Tim Bresnan and Andrew Gale, two other players present that day and also respondents in the case, were asked about the allegation against Vaughan. Botros said they had not been.
Botros said: "It's clear what they thought of the allegations Rafiq had brought to light.
"It's clear they do not corroborate Rafiq's account. That charging decision was taken on the basis they don't corroborate the account. The charging decision was taken on the evidence available to us from Mr Rafiq, Mr Rashid and Mr Rana.
"It was based on Bresnan and Gale not corroborating, which they don't."
Stoner then asked why the ECB did not seek to speak to Vaughan in person.
"We wrote to Mr Vaughan detailing the charges and we got a response," said Botros.
"It's assumption upon assumption," countered Stoner. "The reality is that after the initial meeting (with Rafiq) after two days in November 2021 you weren't really interested in looking into the matter other than to find some corroborating evidence, were you?"
Botros replied: "That's not correct."
Stoner had earlier asked Botros about the release of documents from the ECB to Vaughan's legal team.
Stoner said: "Your position is that the ECB can withhold, relying on privilege, documents that potentially exonerate the respondent?"
Botros replied: "There are no documents which exonerate Michael Vaughan."