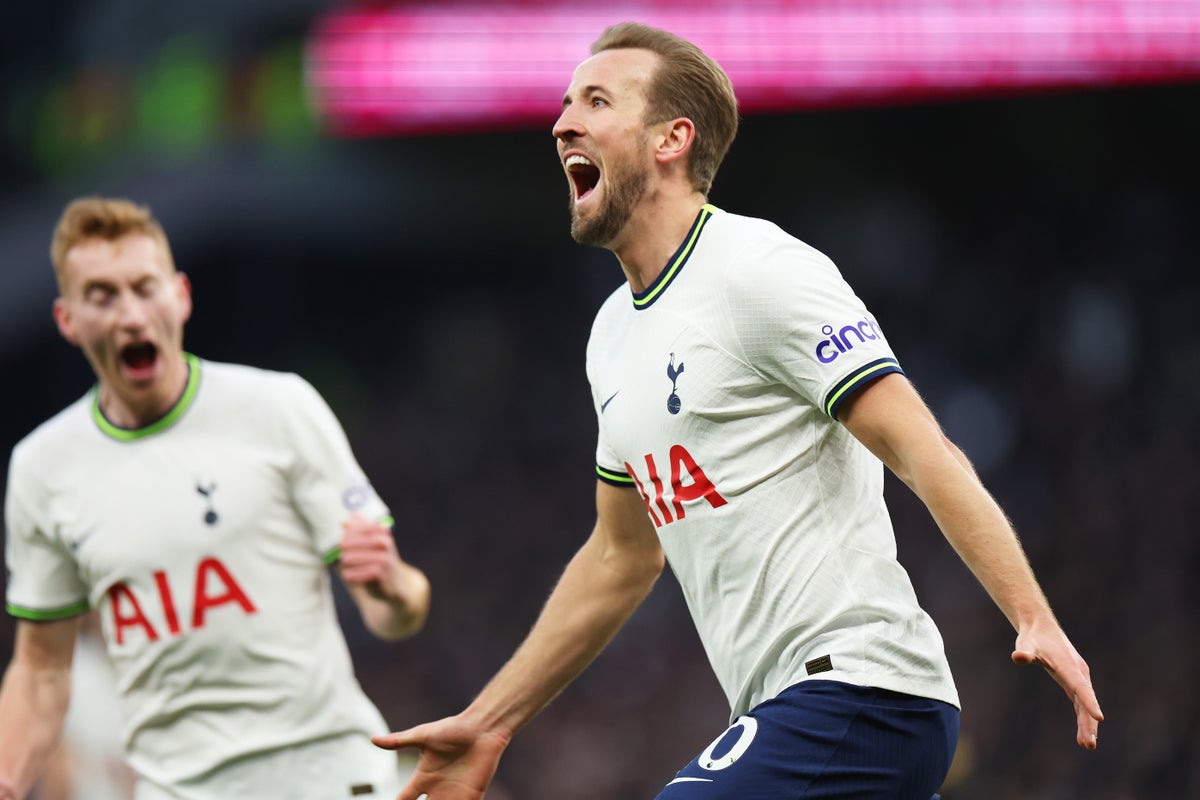 This young stadium enjoyed a special moment, as Pep Guardiola endured yet another bad evening here. The Manchester City manager could only watch as his side failed to do what Harry Kane has now made historic virtue out of. The Tottenham Hotspur legend has become their leading goalscorer, going one better than the great Jimmy Greaves with his 267th goal for the club. It proved the only goal of an invigorating 1-0 win over the champions, as they still haven't scored at the Spurs Stadium since it was built in 2019.
That was this time without the recovering Antonio Conte present in the ground, as Guardiola's problems only mounted. His side failed to take the chance to go within two points of Arsenal after the leaders' loss at Everton on Saturday and that, most aggravatingly for the City manager, after his side barely mustered a chance at all.
Spurs will put that benefit to their great rivals out of their mind, just as they did for all of this game. The evening is of course about Kane, to dominate all headlines, but that only after a display of ultra-focus from Spurs. You could say that is because they now know this tactical approach against City so well but that is precisely what was missing in the 4-2 defeat in Manchester – as well as so many other games over the last few weeks.
Assistant Cristian Stellini got the sort of response out of the players that Conte has in his best moments. It was certainly so much more encouraging for the manager, as he recovers from an operation on his gallbladder. Personifying this was the super-committed Emerson Royal, who had probably his best display for Spurs.
Only one man will really be talked about, of course, and Kane duly gave a speech after the game. He said much more in play. When Daniel Levy refused his transfer to City in the summer of 2021, the champions immediately turned all attention to Erling Haaland. The problem was, the Spurs defence were of a similar mindset. They ensured he was nowhere, barely involved or touching the ball, all as Kane gave a display that was actually about so much more than the finish.
And yet it all came down to that.
As tends to happen with long-awaited moments like these, it suddenly came out of nothing. That was almost literal, at least in a football sense. The build-up to the goal was certainly nothing like the sort of situation that should have seen City concede. They were maintaining possession in the manner that has become second nature, only to get a bit too comfortable in it. Rodri needlessly played the ball across goal, Rodrigo Bentancur pressured, Pierre Hojbjerg won it, and Kane – of course – took it.
Even the style of finish fitted the milestone, as he scored a classic No 9's goal in how he so opportunistically took a chance in the penalty area. It was what Greaves himself became a master of, and Kane has now surpassed.
It also offered up an authentically uplifting moment in a stadium that could still do with gathering them, in a season that has been tense. As the joyous crowd of course sang that Kane is one of their own, a number of colourful images flashed up on the screen celebrating the feat.
It was all so nice – but didn't stay that way for long. There was a proper streak to Spurs here, which had prompted Kane's goal. One of the first notable moments of the game was Bentancur getting booked for leaving one in on Rico Lewis, very much setting an expectation for what was to come. Spurs were pumped, in a way that was much more like last season's victories than that recent 4-2 defeat.
The often-criticised Royal personified this, with one of his best performances for Spurs.
While he got so many challenges right, the Brazilian even seemed a bit over-exuberant at times, and like they were risking too many bookings. That proved to be the case in those crucial final stages, as Cristian Romero inevitably got a second booking. It felt all the more needless since he was so easily handling Haaland.
That was largely because City, by contrast, had none of that fight. They weren't so much "happy flowers", as Guardiola previously put it, as petals in danger of getting trampled on. There was none of that bite.
Only Riyad Mahrez really looked like he could lift it, but he hit one brilliant volley too high, smashing the crossbar.
It was one of his only instances of quality, though, as Guardiola surprisingly took the Algerian off for De Bruyne.
City did start to up it. Eric Dier even celebrated when he realised Julian Alvarez's goal-bound shot had cannoned off him and over. The cost of that for Guardiola was a much greater openness at the back. Spurs were regularly surging through in the way that has characterised their approach to this fixture. As they kept just racing clear of City's backline, Kane could have gone clear of Greaves, his slide to try and meet a cross for an open goal just milliseconds too late.
It still of course got to that stage where seconds became minutes for Spurs – and, no doubt, Arsenal fans. It then only got worse when Romero went off for felling Jack Grealish.
City, however, never got better. They still couldn't create a chance. Spurs were too good at shutting them out.
It meant the whole day became about Kane, in more than one sense. It has more than one meaning, as it will be one Arsenal celebrate as much as Spurs. Guardiola and his own No 9 could only look on, while looking up.