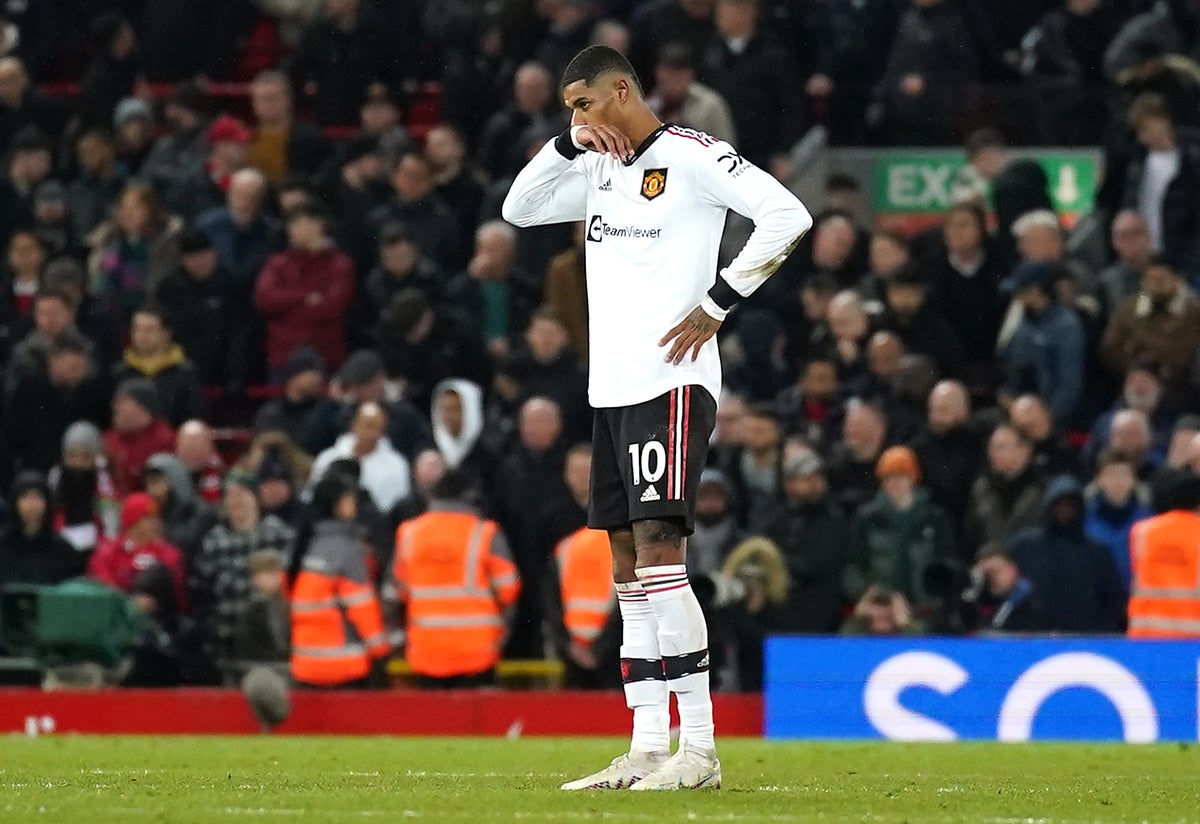 Marcus Rashford has denied claims that Manchester United gave up during their 7-0 defeat to Liverpool on Sunday and said suggestions his team-mates stopped trying amid the second-half collapse are "nonsense".
United's impressive run under Erik ten Hag came to an abrupt and shocking end at Anfield as they fell to their worst defeat since 1931. Ten Hag slammed his team's performance as "unprofessional" after United shipped six goals in the second half against rivals Liverpool.
Rashford conceded that United's communication broke down during the capitulation and blamed their defensive disorganisation on United abandoning their structure as they chased the game after going behind.
Rashford also defended United's stand-in captain Bruno Fernandes, who was labelled a "disgrace" and "embarrasing" by Gary Neville after the thrashing. Fernandes came under particular criticism after he was spotted not tracking back, but Rashford insisted that the team did not surrender the fight against Liverpool.
"We didn't give up – that is nonsense," the England international said. "We were unorganised and communication was bad.
"It comes down to the fact I believe everyone was trying to get back into the game that much, we came away from the principles in and out of possession.
"I felt the forwards were trying to press, just the forward unit, and were disconnected from the midfield. We were talking but weren't in agreement on what to do. The only thing we can do is learn from it and move on."
United have the chance to bounce back as they return to European action against Real Betis in the Europa League on Thursday night. Ten Hag has urged his team to "move on" after learning from the "big lesson" they were taught at Anfield.
The manager also backed Fernandes and said the Portuguese international will continue to captain United when the out-of-favour Harry Maguire is not on the pitch, with Rashford also praising his team-mate's leadership qualities despite the criticism he has received in recent days.
"I love playing with Bruno, as you can imagine," Rashford said. "He's the perfect player to play with. He's been a good leader for us, even when he's not captain, which is always a good sign.
"He's helped other players become better leaders and the reality is that we can't be an organised team in terms of just one leader being captain. He's done a lot for us. I don't have anything negative to say about Bruno.
"As the manager said, nobody is perfect. I support him and I'm 100 per cent behind him."