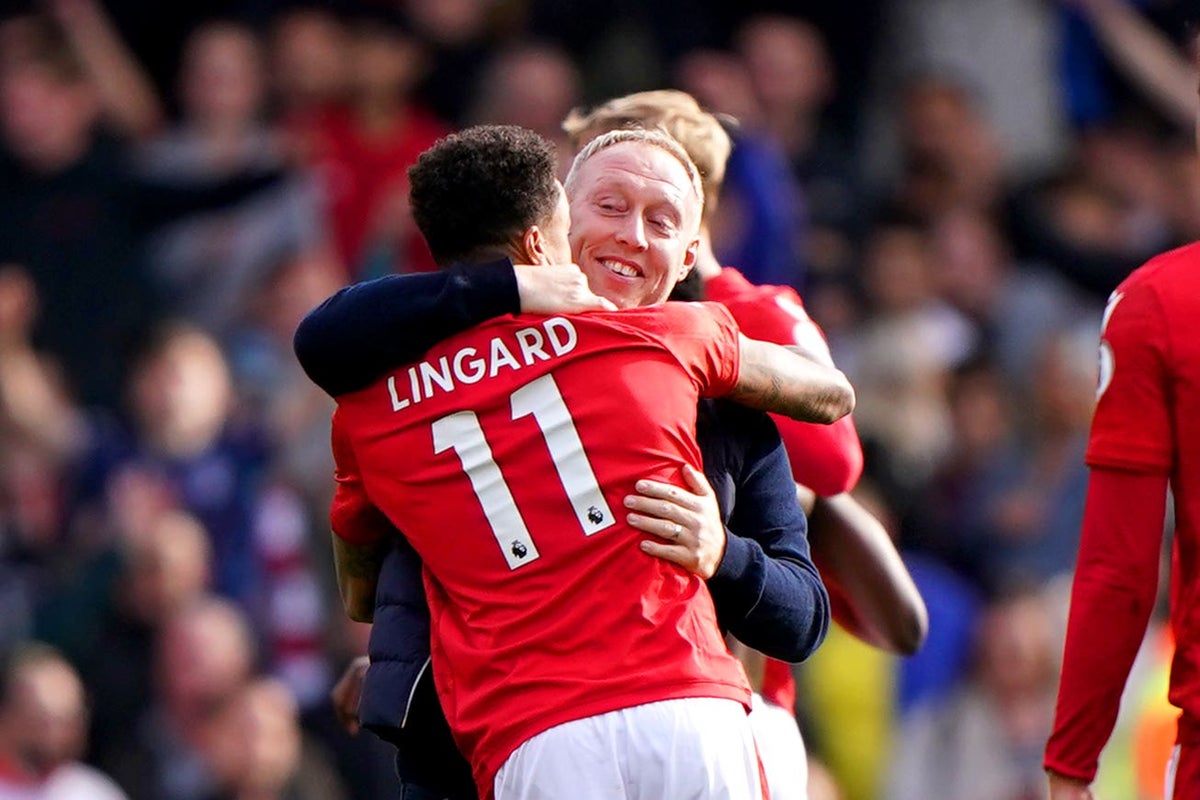 Steve Cooper does not know how long Jesse Lingard will stay at Nottingham Forest but wants it to be as long as possible.
Lingard, who is currently sidelined with a hamstring injury, surprised many when he opted to join newly promoted Forest on a one-year deal in the summer following his release from Manchester United.
He endured a slow start at the City Ground, but was improving before suffering an untimely injury on his return to United at the end of December.
The 30-year-old spoke about his exit from Old Trafford and how much he is enjoying life at the City Ground on the Diary of a CEO podcast this week.
Cooper says the club needs to have a discussion with Lingard about his long-term future but hopes that is at Forest.
Asked whether Lingard could be at the City Ground for the next few years, Cooper said: "My honest answer is, I don't know.
"With regards to his situation here, he is very much part of what we're doing on and off the pitch.
"Even with the games he hasn't played recently because of injury, you can see his engagement in the dressing room and by the side of the dugout. It's no show – although some of his tracksuits need a mention, but that's another matter!
"It's just generally how he is every day. When you see him and when you don't, he's a very infectious, hard-working, committed lad.
"We're really enjoying working with him. How long it will be for – the longer the better, for me. But we don't know.
"At some stage we're going to have to have the discussion with him. But the fact he says he's happy and content pleases me, because that's always what I want for a player – for their self-worth to be high, because that's when you get the best out of them. And if we get the best out of Jesse, then we've got a good player.
"The main thing for Jesse at the minute is to get him back fit and playing. We're not looking beyond that."
Lingard opened up on the podcast about how he turned to drink to cope with the demise of his Manchester United career and discussed his mother's battles with depression.
Cooper was proud of the England international for baring all in the public domain.
"I know he's done the Diary of a CEO podcast," Cooper said. "I listen to that podcast because it's a good learning one, like the High Performance one is with Jake Humphrey. I like to do self-learning.
"It's an easy one because you can stick it on in the car and you're not wasting time just driving.
"I haven't heard Jesse's one yet, because I know it has just come out. But I will.
"We're really proud of him that he can talk openly about some of the challenges he's gone through. It's not easy to do that, so that needs recognising."