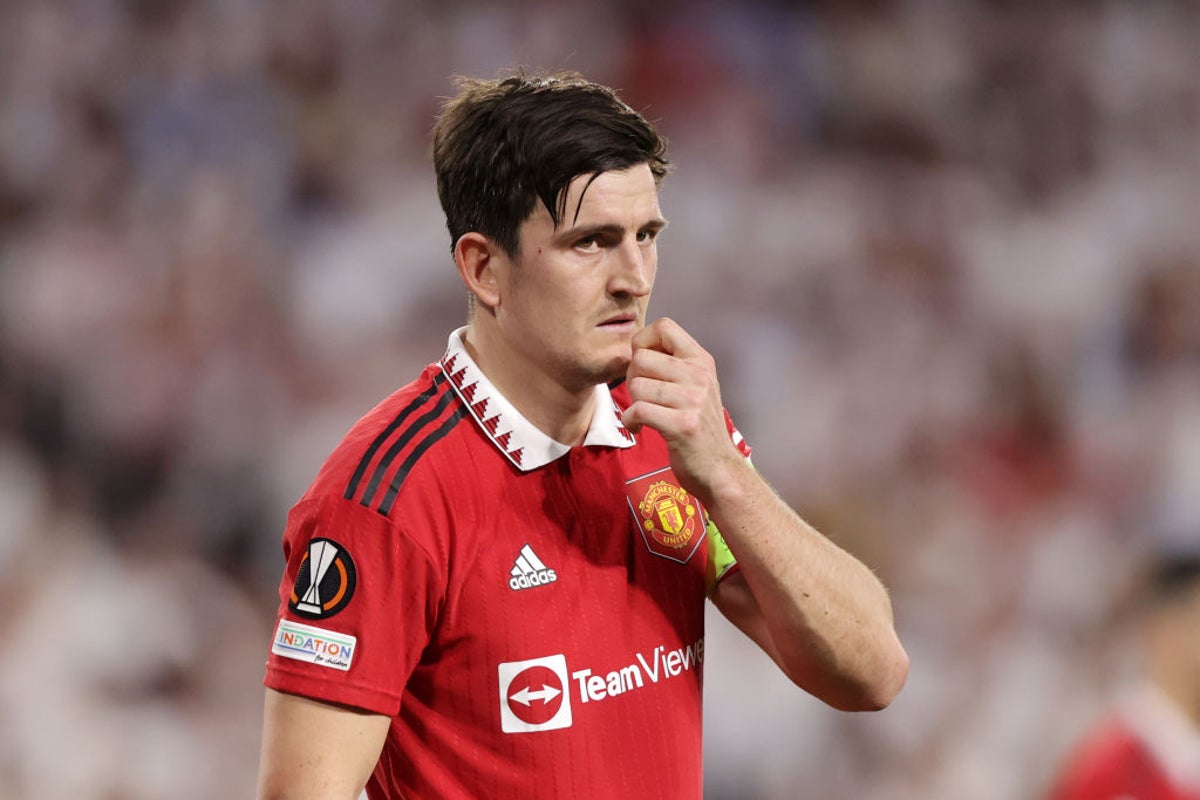 You come at the kings of the Europa League, you best not miss. Manchester United had Sevilla where they wanted them after an hour at Old Trafford. After 90, harrowing minutes in Andalusia, they were out of Europe, overwhelmed, overrun and overcome. After two late own goals at Old Trafford came early and late gifts of goals at the Ramon Sanchez Pizjuan. After a game where United probably should have gone three or four goals up came one where they lost by three and were probably flattered by that scoreline. After a match where Harry Maguire was luckless for a Sevilla goal came a rematch where he was definitely, crucially at fault for one. After a season where David De Gea has at least showed glimpses of his best came arguably the poorest performance of his United career.
If a moment was required to epitomise United's haplessness, still more than Maguire's role in Youssef En-Nesyri's opener, De Gea supplied it for the Moroccan's second. His troubles with the ball at his feet were a cause of the first goal. They brought the last, the goalkeeper's complete inability to control or clear a long ball instead teeing up En-Nesyri to find an empty net from 35 yards. That was United, failing at the basics, giving Sevilla an open goal. If the world's most expensive centre-back was not the worst player on the pitch, it was because its best-paid goalkeeper was instead. All three goals could be traced to him.
But the men United needed to stand tall were instead cowed and broken by the ferocity of Sevilla and the Ramon Sanchez Pizjuan. Like Brentford, like Liverpool, like Newcastle, this was another away day when Erik ten Hag's team were found wanting in every respect.
United were intimidated into defeat, entirely legally. It was a test of nerve, of resolve. They failed it. They went out, their dream of a treble over, their chances of a domestic cup double feeling precarious in a week that could suddenly narrow their horizons. Meanwhile, Sevilla march on. Six-time winners are 13th in La Liga but a different team in this competition, their competition. They have had three managers and a flirtation with relegation in a traumatic campaign but it could end with a seventh Europa League in under two decades. It is an astonishing level of overachievement, relative to their resources, by a club who define themselves by a competition that is often derided but fearsomely hard to win. Just ask United now: even knocking out Barcelona only carried them so far.
They had coped wonderfully well at the Nou Camp. They had won in Seville, against Real Betis. But on the other side of the city, they were dreadful. The loss of Lisandro Martinez and Raphael Varane in the first leg looked still more costly than the twin own goals.
Without their first-choice centre-backs, there was a lack of conviction. There were shambolic attempts to defend set-pieces, which brought the second goal. There were utterly unimpressive attempts to pass out from the back, which led to the first.
Unfortunate for his own goal at Old Trafford, Maguire was far more culpable for a strike separated by about nine minutes of football, a week and 1,000 miles. De Gea did him few favours with a pass, but Maguire's attempt to flick the ball away from Erik Lamela was misjudged. It struck the Argentinian, rebounded for En-Nesyri and he slotted his shot past De Gea. Scorer of the goal that eliminated Portugal from the World Cup, the Moroccan striker has developed a taste for giant-killings.
So have his teammates. Sevilla celebrated a second goal with uninhibited joy when Lucas Ocampos sidefooted past De Gea only for his supplier, Marcos Acuna, to be ruled offside. They were not to be denied and could celebrate with similar fervour when Loic Bade met Ivan Rakitic's corner, shouldering the ball in such a way that it looped over De Gea, almost in slow motion. Then came the Spaniard's greatest howler and En-Nesyri's second. After his missed penalty in the 2021, the Europa League continues to torment the goalkeeper but too many major occasions have brought De Gea errors.
It was another indication that everything United did went wrong when Bade scored just after Ten Hag had brought Marcus Rashford on and before he had the chance to touch the ball. The Dutchman's substitutions backfired at Old Trafford; in Spain, they were attempts to rescue what increasingly felt a lost cause.
Without him, United had no threat. With him, they weren't much better. Sevilla could turn a game around when two goals down – with the aid of United putting the ball in their own net – but not vice versa. Instead, it was three, as a corner of the ground emptied. The rest stayed and savoured it.
The Ramon Sanchez Pizjuan, part steep-sided stadium, part cauldron, had an almighty din, streamers flowing down from the top tier on the pitch. It is the sort of place where people get burned by the sun or deafened by their hosts. It is a stadium where dreams die, swallowed alive by the fervour of the locals. Jose Luis Mendilibar's players were as relentless as the crowd, United's hapless and hopeless to extend an extraordinary run.
They have now exited Europe to Spanish opposition for a sixth successive season. Forget Brexit, this is Spexit, Manchester United-style.