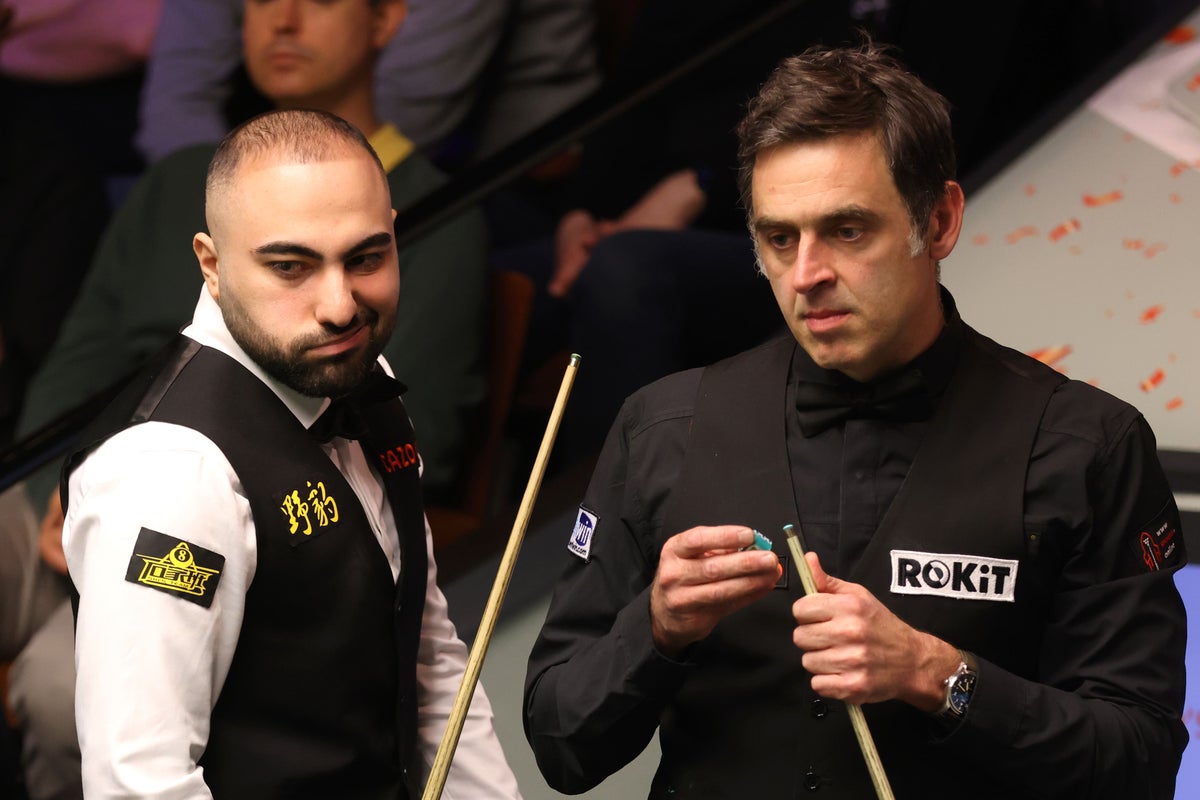 Ronnie O'Sullivan shrugged off an extraordinary act of self-sabotage by opponent Hossein Vafaei to deliver a potential knockout blow in the opening session of their so-called grudge match at the World Snooker Championship.
O'Sullivan racked up his 200th Crucible century as part of a ruthless riposte to Vafaei's pre-match barbs, while the Iranian did himself no favours by smashing the balls from his first break-off in an ill-judged reaction to perceived disrespect shown to him by O'Sullivan performing the same shot in their last meeting two years ago.
Vafaei's blast cued up O'Sullivan to mop up with a break of 78 and the defending champion went on to fashion a 6-2 overnight advantage in their second-round clash, leaving him an opportunity to wrap up victory with a session to spare when they resume on Saturday afternoon.
The Iranian was accused of "stupidity" and "disrespecting the sport" by a shocked Steve Davis in the BBC studio, while another former world champion, Shaun Murphy, labelled Vafaei's antics "an embarrassment" and "completely self-inflicted".
Vafaei had launched an extraordinary verbal assault on O'Sullivan in the wake of his first-round win over Ding Junhui last Sunday, alluding to an incident in their German Masters qualifying match in 2021.
The Iranian accused O'Sullivan of "disrespect" for smashing open the balls from his break-off shot in the final frame of that match, which Vafaei won 5-0. Vafaei added: "He (O'Sullivan) is such a nice person when he is asleep."
As snooker grudge matches go, it was not exactly at the level of Cliff Thorburn lamping Alex Higgins in a back room at the 1983 Irish Open, nor volatile Australian Quinten Hann offering his opponent Andy Hicks out for a post-frame fight in 2004.
But, in front of a raucous Crucible crowd, MC Rob Walker did his best to cue up the clash like a heavyweight slugfest by announcing O'Sullivan, boxing-style, as the "reigning, defending champion of the wooorld."
Vafaei offered a wry smile which was not returned by his opponent as they briefly touched gloves, and a steely-faced O'Sullivan proceeded to ruthlessly capitalise on a mistake from the Iranian to rack up a break of 78 and win the first frame.
It ought to have been clear to Vafaei from comments made by O'Sullivan in an interview with Eurosport on the eve of their match that the seven-time champion was unconcerned by his provocative comments.
"I don't have any revenge in me," O'Sullivan had said. "I don't get involved in those battles because it is not worth it. You just have to stay in your own lane and stay focused on what you have to do."
Word appeared to have not got through to Vafaei, who dealt what he may have perceived to be a taste of his own medicine to O'Sullivan by sending the balls helter-skeltering around the table from his opening break-off.
O'Sullivan duly swept up the simplest of chances to go 2-0 in front with another break of 78, prompting a baffled Davis to insist: "That is stupidity, or you just don't care about being a world champion.
"You're basically giving your opponent an easy chance. For me it's a nasty taste in my mouth for the match, and it was a mouth-watering taste to start with.
"It's not good to see. I don't think it is necessarily disrespectful to Ronnie, but it is maybe considered disrespectful to the game of snooker and the people who come along to watch, and want to see a great game.
"It's not nice, it's not good. It's not a personal game, snooker, your problem is the table and the balls, not your opponent."
To the amazement of Davis, Vafaei pulled himself together to win frame three, compiling a break of 64 off the back of an excellent long red that ultimately proved to be the frame-winner, and reduce the deficit.
"I don't understand how you can smash the balls up in the World Championship, then play great in the next frame," added Davis.
"What type of brain can do that? I don't know where he's coming from, but bloody hell, to win that frame after embarrassing yourself – how on earth can you concentrate after that?"
O'Sullivan, showing no obvious ill-effects from the apparent virus that had hampered him during a sluggish first-round win over Pang Junxu, made breaks of 69 and 51 to win the fourth frame and canter into the mid-session interval 3-1 ahead.
Vafaei spurned a series of good chances to seize frame five, which went O'Sullivan's way after a lengthy safety exchange, and he went 5-1 up after carving his historic century from unpromising beginnings.
O'Sullivan extended his advantage to 6-1, but Vafaei ended a tumultuous session on something of a high when he capitalised on a missed pink from O'Sullivan with a gutsy clearance of 58 to arrest some of the damage.