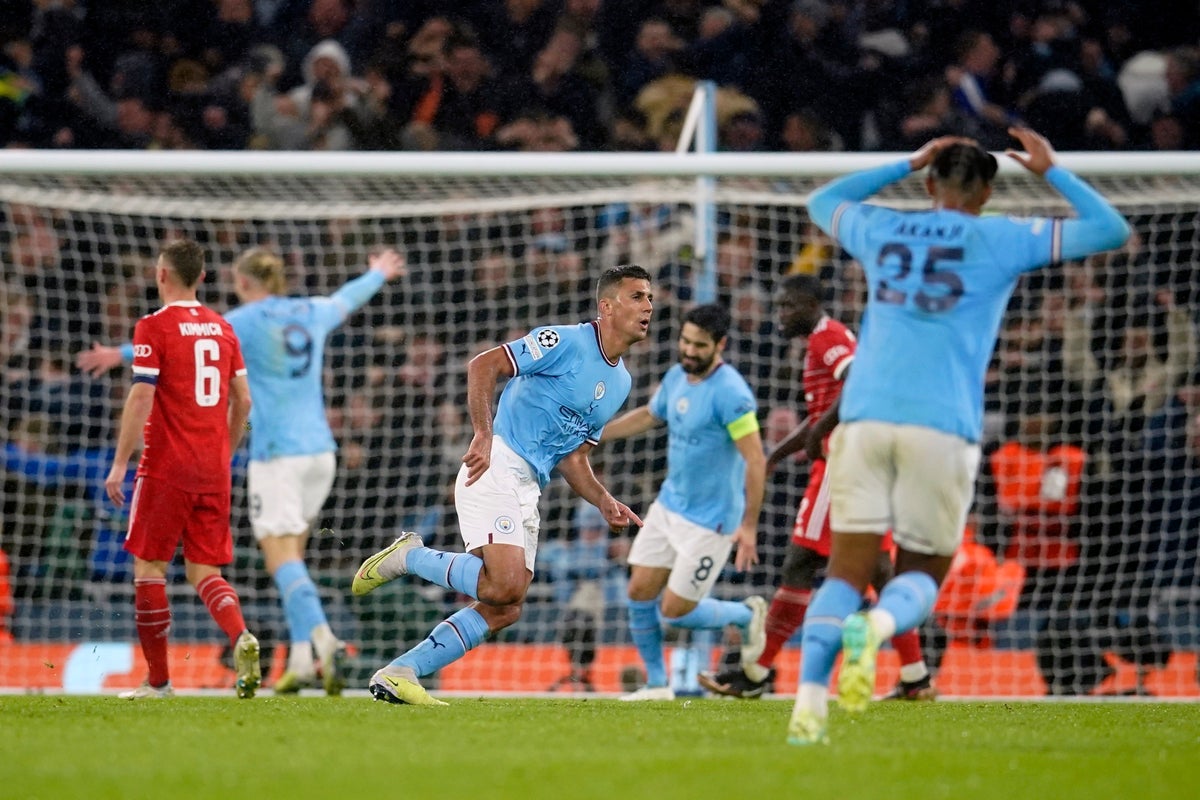 In a fit of genius, Pep Guardiola overthought things. He omitted his defensive midfielders, stationed his top scorer in front of the back four and crowbarred another winger into the team. This would outwit Thomas Tuchel. This would get the elusive Champions League win.
It didn't, of course. Tuchel's Chelsea capitalised on the absence of a destructive presence at the base of the midfield to score the only goal in the final. Rodri watched on from the bench, an unused substitute. He had started 46 games in the season, but not the biggest of City's history. That was 2021 and Tuchel joined Guardiola in the band of Champions League winners.
Two years later, Rodri began the Guardiola-Tuchel rematch. He helped decide it too. Different generations of Spanish defensive midfielders could celebrate as Rodri showed his constructive skills; from 25 yards, with his lesser left foot, curled into the top corner. It wasn't a quintessential Guardiola goal but it might have been his Vincent Kompany moment, the point where he had the shot of his life.
That was the spectacular. Guardiola, however, prospered by doing the sensible. As he got his revenge over Tuchel, as he took Manchester City to the brink of a third consecutive Champions League semi-final, as he beat Bayern Munich's new manager 3-0, he found a new way of confounding Tuchel. He opted for the obvious. And as it was Pep Guardiola, no one would expect that.
The problem of being too clever, of having too many ideas, is that the best ones can get neglected in favour of something more left-field. Guardiola has tried them all in the Champions League: three centre-backs against an undistinguished Lyon side, Kevin de Bruyne on the bench against Tottenham, Ilkay Gundogan on the right wing at Anfield, Gundogan anchoring the midfield in the final. The bigger the game, the more he needed to prove his brilliance. Guardiola is familiar with the narrative he overthinks; he references it in the manner of a man who reads the criticism of him, objects to it but realises he cannot stop it. At times he leans into it.
But take overthinking to its natural extreme and the result is completely conventional. Guardiola overthought things so much, he came up with an entirely logical team. It was a cunning way to confuse Bayern. Jack Grealish wasn't in goal. Nathan Ake wasn't up front. Erling Haaland wasn't a false 12. And no one would have anticipated that John Stones, England's outstanding centre-back, would spend much of the match as a centre-back.
Because even when Guardiola changed, it made sense. Stones has made a success of his hybrid role of right-back and holding midfielder of late – choruses of his name are the City fans' new anthem – but this time he was part midfielder, part centre-back and, for the moment when he set up Haaland's strike, part strike partner for the 45-goal Norwegian.
City's formation, often a quixotic 3-2-4-1 in recent weeks, tended to be more of a 4-3-3. Returning to his old beat, Stones made a wonderful recovery challenge on Leroy Sane just as, shortly before Rodri broke the deadlock, Ruben Dias made a magnificent block to keep out Jamal Musiala's shot. It was old-fashioned defending by City's two best centre-backs. And if that meant Manuel Akanji was pushed out to play as more of a right-back, the Swiss is actually perhaps only City's fifth-finest central defender.
There was a rationale to the one change Guardiola made, and a reward too. Riyad Mahrez dropped out of the side who beat Southampton. Enter Bernardo Silva, scorer of the second and, after finding the net in the 4-3 wins over Real Madrid and Tottenham, something of specialist in marking such occasions with goals. Guardiola always likes to find a way to field the quartet of the Portuguese, Gundogan, Rodri and De Bruyne, to get an extra player with the skillset of a central midfielder. He did it in the most obvious way, with Silva as the right winger. If he was flattered by his assist for the opener – the credit belonged entirely to the scorer, Rodri – there was a case for naming him man of the match anyway. Rodri and Stones were also compelling candidates, though.
Meanwhile, another versatile, tactically intelligent footballer to have flourished under Guardiola watched on. There was a moment when Thomas Muller, protected by a hat against the Manchester rain, consulted with Tuchel on the sidelines, the substitute and survivor of Guardiola's years of not winning the Champions League with Bayern doubling up as a pseudo assistant manager. Perhaps they were befuddled: who could have predicted that Guardiola would pick perhaps his strongest available side in a formation to bring the best out of them?
Because if there was a slightly facetious theory Bayern appointed Tuchel to mess with Guardiola's head, to get him questioning himself. Instead, the Catalan enjoyed one of his finest nights in the Champions League as City manager. He returns to Bayern with a three-goal lead. It would take quite a bit of overthinking to lose it.