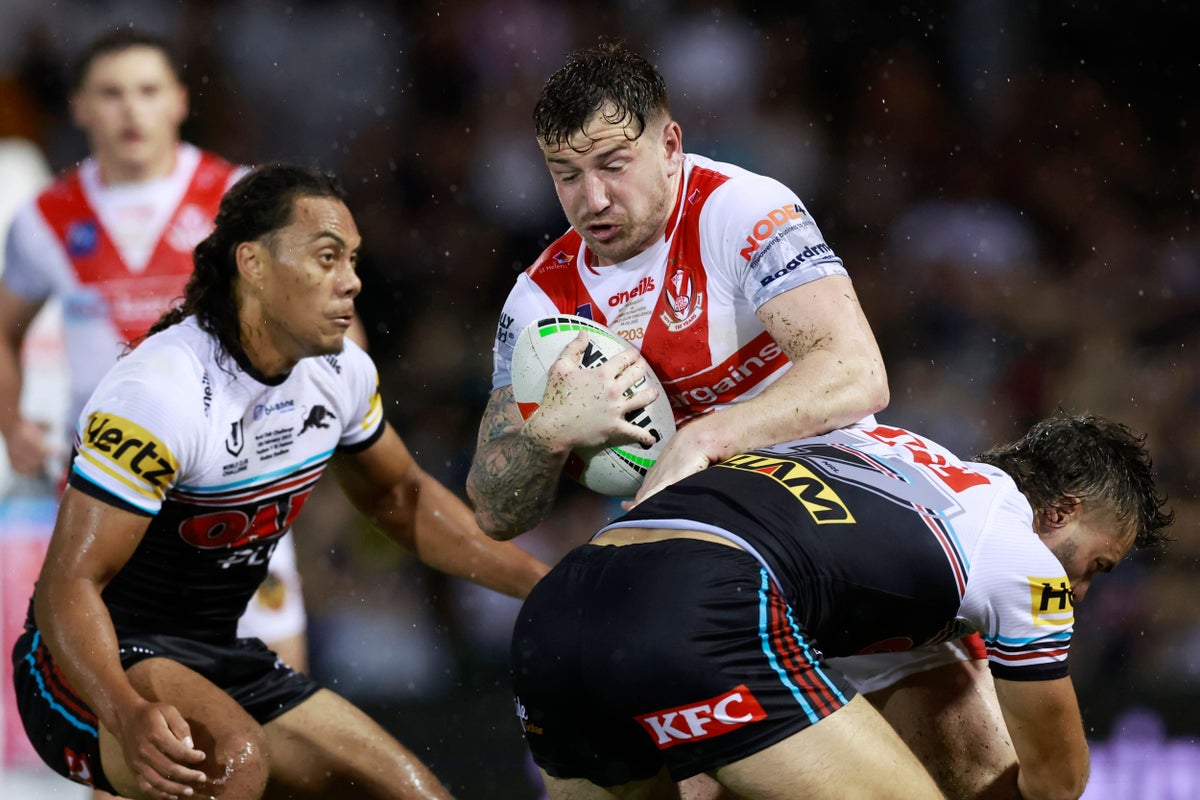 St Helens head coach Paul Wellens is hopeful his side's dramatic World Club Challenge win over Penrith Panthers will boost the image of Super League and help stop the drain of top young talent to Australia's relatively lucrative NRL.
Lewis Dodd kicked a nerveless drop-goal in golden point to seal a stunning 13-12 win for Saints, who had gone into the game as huge underdogs, as they became the first English team to win the title Down Under since Wigan in 1994.
And the performances of the likes of Dodd and his mercurial team-mate Jack Welsby have sparked inevitable speculation over whether Saints' triumph could inadvertently lead to some of their star names being snapped up.
Wellens, who played in Saints' last world triumph in 2007, said: "You don't need Jack Welsby to come out here and play well to know he's an excellent player – you can turn on your TV most weekends and watch Super League and know that.
"I consider it a privilege that clubs on this side of the world would like to take our players, because that means we're doing something right. But at the same time we have to create an environment where players want to stay and be a part of it.
"I don't know the individual ambitions of every single player within our squad, but I do know to a man they are all extremely happy pulling on a Saints jersey and coming over here and performing like they did."
John Bateman's decision to quit Wigan and join Wests Tigers in the close-season, along with 2024 deals for Kai Pearce-Paul and Will Pryce at Newcastle Knights, has raised legitimate concerns over the ability of Super League clubs to keep hold of top talent.
NRL clubs are currently engaged in negotiations that are expected to lift the competition's salary cap to around £7million, more than triple the current Super League equivalent, amid calls from some clubs for it to rise to enable them to remain competitive.
But Wellens believes his side's remarkable win, fashioned by a lung-bursting dash from Welsby and a second try from Konrad Hurrell before they withstood a Penrith fightback that was completed an agonising 80 seconds from full-time, can only help redress the balance.
Wellens, whose side kick off their domestic campaign at Castleford next Sunday, added: "What we wanted was to change opinions and we've done that.
"We haven't won Super League with ease over the last four years. I hope people realise that the Super League is a strong competition. Although it's not at the level of the NRL on a consistent basis, it's not doing a lot wrong.
"We're a strong competition in our own right, and we're trying to get better and improve. I hope this performance can be a catalyst for change, and a catalyst for improvement in rugby league on our side of the world."