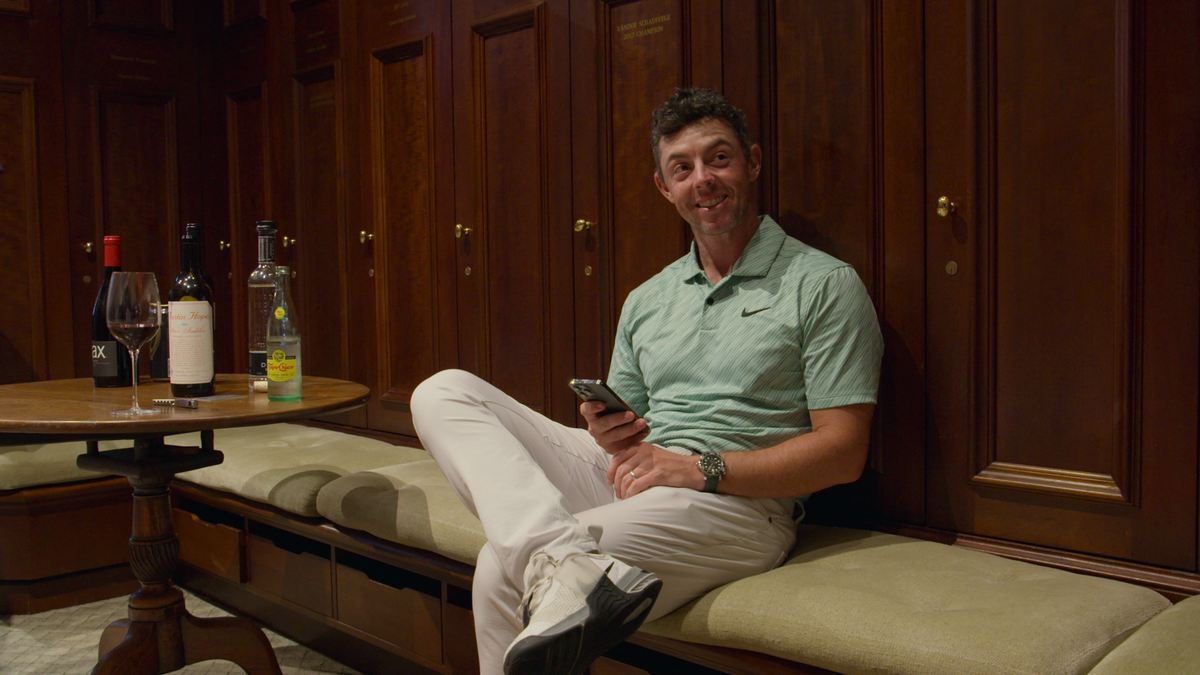 Everything has led to this, not just for Rory McIlroy but golf in its entirety.
Full Swing, the new Netflix series available to stream now, takes the viewer on a ride across a year on the PGA Tour, but the looming presence of LIV Golf both adds a nervous energy to and distracts from the genuinely compelling stories available throughout.
"You picked a hell of a year to follow the PGA Tour," Ian Poulter, who swiftly jumped to LIV Golf last year, chortles.
But while LIV, the elephant in the room, may spark more interest around this series and emerge as the primary attraction in the latest imitation of F1's blockbuster hit Drive to Survive, there is little nuance to the debate across eight episodes.
A first reference to the Saudi-backed league comes after 13 minutes, interrupting a deeper look at 'frenemies' Jordan Spieth and Justin Thomas.
And while Brooks Koepka and Ian Poulter, LIV stalwarts, are among the primary focus as each episode centres around two players and their journey, Full Swing largely ignores the deeper meaning and politics behind the controversy surrounding the breakaway league.
And while that will grate with some, one could argue that Netflix is not the right place to delve into this topic.
Swiftly cast as the villain when former player and outspoken broadcaster Brandel Chamblee underlines how LIV "threatens the foundations of the game," the counter-arguments solely revolve around the riches on offer, without truly outlining why they are available.
Koepka couldn't say no given his "grandkids' grandkids are now taken care of."
While Poulter, ever a colourful character in the game and worthy of an episode to himself, may just be hoping to have his day in court to ensure he eventually will have his cake and eat it. Yet he remarks: "Do I love the Ryder Cup? Is the Pope Catholic?" Evidently that love is not quite strong enough to risk his presence in Rome this year.
Unlike Drive to Survive, Netflix has managed to ensure the biggest stars feature prominently in Full Swing, with Spieth and Thomas providing an excellent start before McIlroy takes centre stage in the finale.
Intimate scenes surrounding Spieth's best man speech and the pair swapping hundreds of dollars during Southern Hills practice rounds for the PGA Championship in a game of 'Hammer' illustrate the PGA Tour's depth despite the many defections last year.
Scottie Scheffler demands more coverage, after returning to the top of the world rankings last week following victory in Phoenix. While the stories behind the likes of Jon Rahm, Xander Schauffele, Tom Kim, Max Homa and Shane Lowry would also appeal. Perhaps fans could play a role in who Netflix follows next?
If LIV was not such a domineering topic in golf, then Full Swing may just emerge as a breeding ground for the stars of tomorrow too. Tony Finau discussing the simple pleasure of a game of Uno with his family or the journeyman grind for the likes of Joel Dahmen are who the average viewer can better relate to in this infuriating sport.
Once the sport settles down though, you can imagine many more versions of Daniel Ricciardo emerging with 156 starters each week, rather than just 20.
Full Swing might just be the final tool to rid golf of its dependence on Tiger Woods, who is not even mentioned until 24 minutes into the first episode.
Hardcore fans will certainly enjoy the show, given a glimpse into how the professionals prepare. From McIlroy, Thomas and Spieth gathering in the gym to the latter's mid-round commentary while struggling to find his best form: "Oh Jordan, what are you doing? Get lucky, get so lucky."
These are golden moments that even host broadcasters sometimes miss during the majors, ensuring Full Swing delivers something fresh to a sport that has found itself at boiling point.
All eight episodes of Full Swing are available to stream on Netflix now