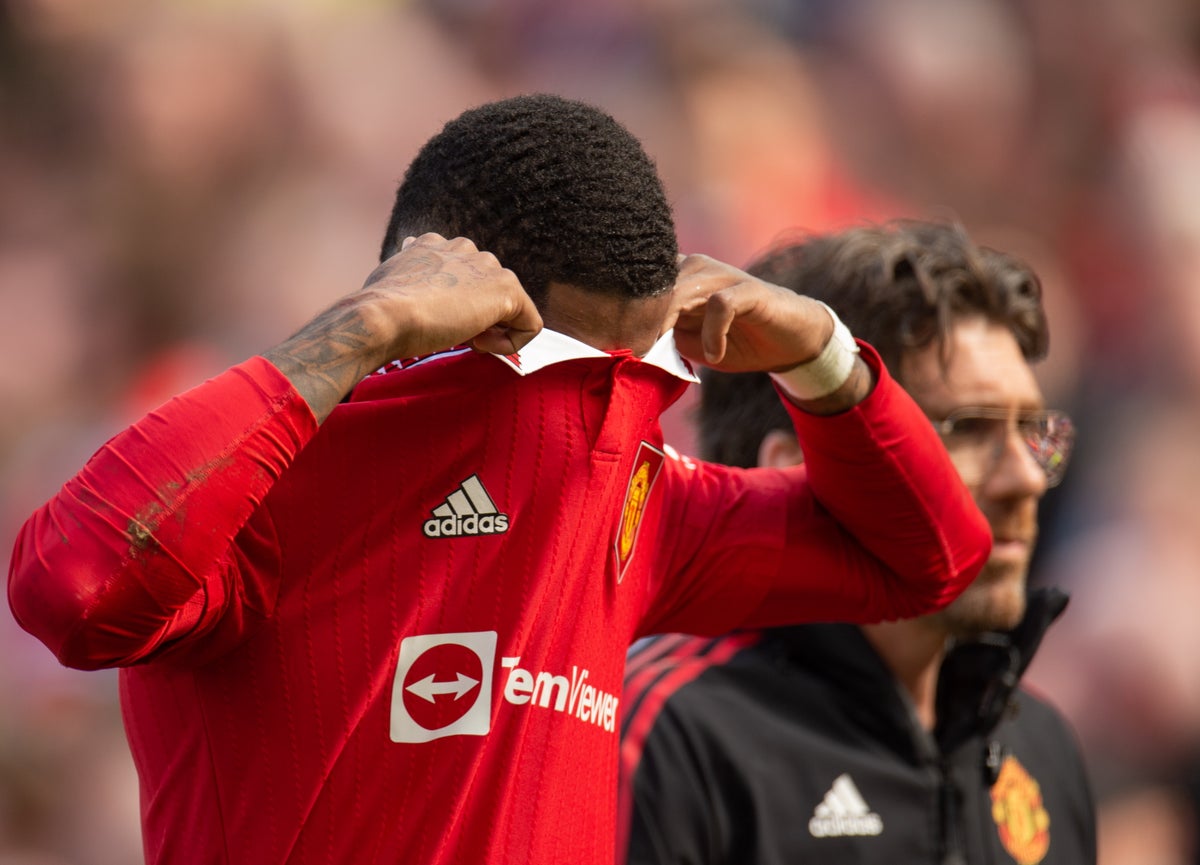 The warning proved more urgent than Erik ten Hag would have wanted. Three days earlier, he had spoken of the need for someone to relieve the burden on Marcus Rashford. It felt like a target for the summer transfer market, until it became rather more pressing. The man Ten Hag has often termed "unstoppable" was stopped; by an injury that could have Manchester United fearing the worst. Even a two-week absence could cost United in three competitions, with an FA Cup semi-final following a Europa League double-header against Sevilla. Four days later comes the top-four shootout against Tottenham. The immediate worry is that Rashford may miss that, too.
In the meantime, United seem likely to go into their 50th game of the season with no available player who has more than 10 goals in all competitions and he, Bruno Fernandes, operated as the holding midfielder on Saturday. United have one of the Premier League's top 34 scorers, only one player with more than five. It underlines the scale of their Rashford dependencia; he has 28 goals in all competitions, 13 of them winners, and 20 of United's 55 since the World Cup. Take away his Premier League strikes and United have 14 fewer points. Remove those and they are 10th, below Brentford. And if it isn't as simple as that, the Ten Hag revival has largely been powered by one player. The Dutchman is all too aware of that.
"What you want as a squad is that you have two players who can score more than 12 or 15 goals a season," Ten Hag said last week. Then he was looking for a second scorer; now he needs a first, with progress on three fronts imperilled by one injury. It is an immediate issue that reflects a summer priority: sign a striker. Harry Kane and Victor Osimhen represent compelling candidates: get either and Rashford may revert to being the second scorer. It offers the possibility of two players who can get 30 goals in a campaign. "Manchester United need outstanding players, that is clear," Ten Hag said last week.
Arguably, they have only had one outstanding attacker this season. Rashford's impact is illustrated by the fact they are fourth and, if he is deemed essentially a winger now, their first league goal from an out-and-out centre forward in 2023 came at Easter. Even then, Anthony Martial's open goal was provided by Rashford. It was a brief glimpse of Ten Hag's vision; indeed Rashford was only left on the pitch, leading to his injury, because the manager wanted to give the pair time together.
It pushed Martial ahead of Rashford in one respect: he has a goal every 135 minutes in the league this season, to the Englishman's one every 159; the problem is there have only been 540 minutes out of a possible 2610. Friday will be three months since his last start. Given the Frenchman's fragility, and Ten Hag's reluctance to start him, he cannot be relied upon to serve as the main man.
Martial reflects a reason why Rashford has been overworked, with 47 appearances from a possible 49, and why no one else has proved remotely prolific. Only the similarly busy Fernandes of the potential scorers has also had a full season. Martial and Jadon Sancho have had lengthy absences; Cristiano Ronaldo and Wout Weghorst have had half-seasons each at Old Trafford, though they only have five goals between them, and just one in the league.
If many discussions at United somehow but inevitably come back to Weghorst, the non-scoring striker with no goals and three shots on target in the Premier League, his drought mattered less when Rashford was fit; it could be accommodated more easily in winter than in spring, when games have a greater magnitude. Then there is Antony, a scorer in his first three league games but none since. He has delivered spectacular goals, but not enough.
It has left United looking short of firepower; Ralf Rangnick seemed to have a similar complaint this time last year, though they had started the season overloaded with potential scorers, and yet scored too few goals. They had Ronaldo, Rashford, Fernandes, Martial, Sancho, Mason Greenwood and Edinson Cavani. They ended up the ninth-highest scorers in the Premier League with their third-lowest total since 1990. In all competitions, Fernandes's tally of 10 was the second highest; Ronaldo's 24 was, according to some interpretations, a fine individual achievement or, as Ten Hag may have concluded, evidence he was restricting others' opportunities and making them less potent.
But perhaps Ten Hag's ideal is the kind of distribution of goals United had before Ronaldo's return. Call it the Solskjaer model, perhaps, because Ole Gunnar Solskjaer had two seasons where his side scored at least 110 times in total with several regular contributors. In 2020-21, Fernandes led the way with 28, supported by Rashford, with 21, and Cavani, with 17. In 2019-20, Martial and Rashford both passed 20, Greenwood got 17 and Fernandes made it four players in double figures. Which, productive as the Portuguese was in his first 18 months at Old Trafford, made them less dependent on any one player. Because if Rashford's one-man efforts have been remarkable, now United have to find a way without that one man.