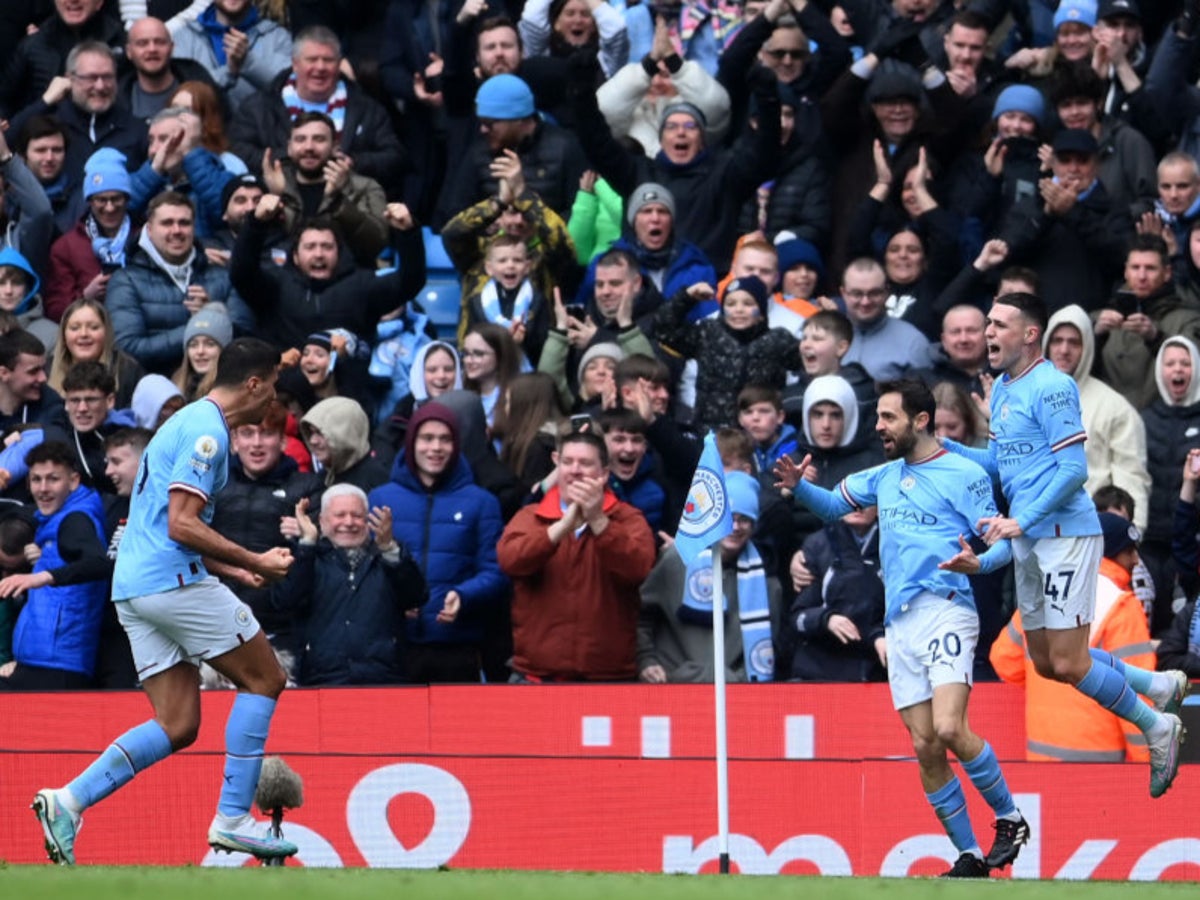 If it was the derby between the United Arab Emirates and Saudi Arabia, the clash of the super-rich was decided with the aid of a Mancunian who cost nothing. Phil Foden's return to form was rubber-stamped by a goal that was both deflected and glorious. Bernardo Silva illustrated that, for now anyway, Manchester City possess more resources than Newcastle United by coming off the bench to score inside two minutes. The owners are neighbours in the Middle East but it is increasingly probable their clubs will not be meeting in Europe next season.
The reigning champions rendered it less likely Newcastle will be in the Champions League. After a four-month stay in the top four, their season has stalled. After only two defeats all campaign, they have three in as many matches in all competitions. And if the fixture list always rendered that possible, their goal shortage has become acute.
For City, meanwhile, it was at least a demonstration that they look less reliant on Erling Haaland to find a finish. The Norwegian has only scored in two of his last eight outings but, as he got an assist, two of City's band of midfielders and wingers chipped in instead to keep their title challenge going. They have only dropped points twice at the Etihad this season and, with Newcastle on their longest unbeaten away run in the top flight for 53 years, something had to give. The outcome nevertheless felt predictable.
Perhaps it was the early warning sign, with Ilkay Gundogan heading on to the roof of the net in the first minute, or the fact that City soon led. The first goal tends to determine Newcastle's games and, unaccustomed to trailing, they are struggling to strike back. With better finishing, they might have procured a point, but the finish has eluded them too often of late. There was a low-key feel at times; these teams had shared six goals in a summer thriller. The rematch was altogether less memorable but, for Pep Guardiola, rather more productive.
It helps that he has a rejuvenated Foden. After one of the toughest spells of his career, in his own words, he now has four goals in three games. Even in a decidedly mixed campaign, only Haaland has scored more for City and Foden's 13th came after a direct, diagonal run. A burst of acceleration took him past Dan Burn, Anthony Gordon and Bruno Guimaraes before his shot deflected in off Sven Botman. For the Dutchman, who also applied the final touch for Marcus Rashford's goal in the Carabao Cup final, it has been a week of two cruel deflections.
It was, though, a tale of two locals, pitted against each other. The giant Geordie Burn had a tough time against Foden, his lanky frame making him ill-suited to chasing a man with a lower centre of gravity and an ability to go through the gears at will. His frustration was apparent when he was booked for a bust-up with Haaland and, if it suggested a certain fractiousness between these clubs, they were probably not discussing geopolitics in the Persian Gulf.
Haaland, too, had reasons to be irritated. He ought to have doubled City's lead but headed Kevin De Bruyne's cross wide. He at least contributed to a goal. After Nathan Ake won the ball back, Jack Grealish and Haaland combined to tee up Silva, who squeezed a shot past Nick Pope.
It was a sign City's gameplan was working. They were quick to attack on the transition, showing more directness than they sometimes display. Newcastle's attempts to press high meant that, if City could break, space awaited them. Gundogan was often the prompter on counterattacks, De Bruyne invariably surging away in front of him. Foden, denied a second by Pope, looked sharp.
Newcastle have no such incision. Their recent record now stands at three goal in eight league games. They had the opportunity to double that tally in an afternoon but mustered just two shots on target, the second a Kieran Trippier free kick with the last kick of the game. When rather more was at stake, Callum Wilson miscued a finish from Kieran Trippier's headed cross. Eddie Howe had preferred the out-of-form Wilson to Alexander Isak. He was not vindicated: the Swede had looked sharper in the Carabao Cup final and did again when he came on. Nor was it the only fluffed finish, with Joelinton missing his kick from Joe Willock's low cross.
Meanwhile, Gordon made a maiden start since his move from Everton, to no great effect. Guimaraes, who had been the Tyneside Invincible, suffered a first league defeat this season. And Newcastle, who were above City in the standings on Boxing Day, are now 17 points behind them, For the owners from the UAE and Saudi Arabia, it is a different sort of gulf.