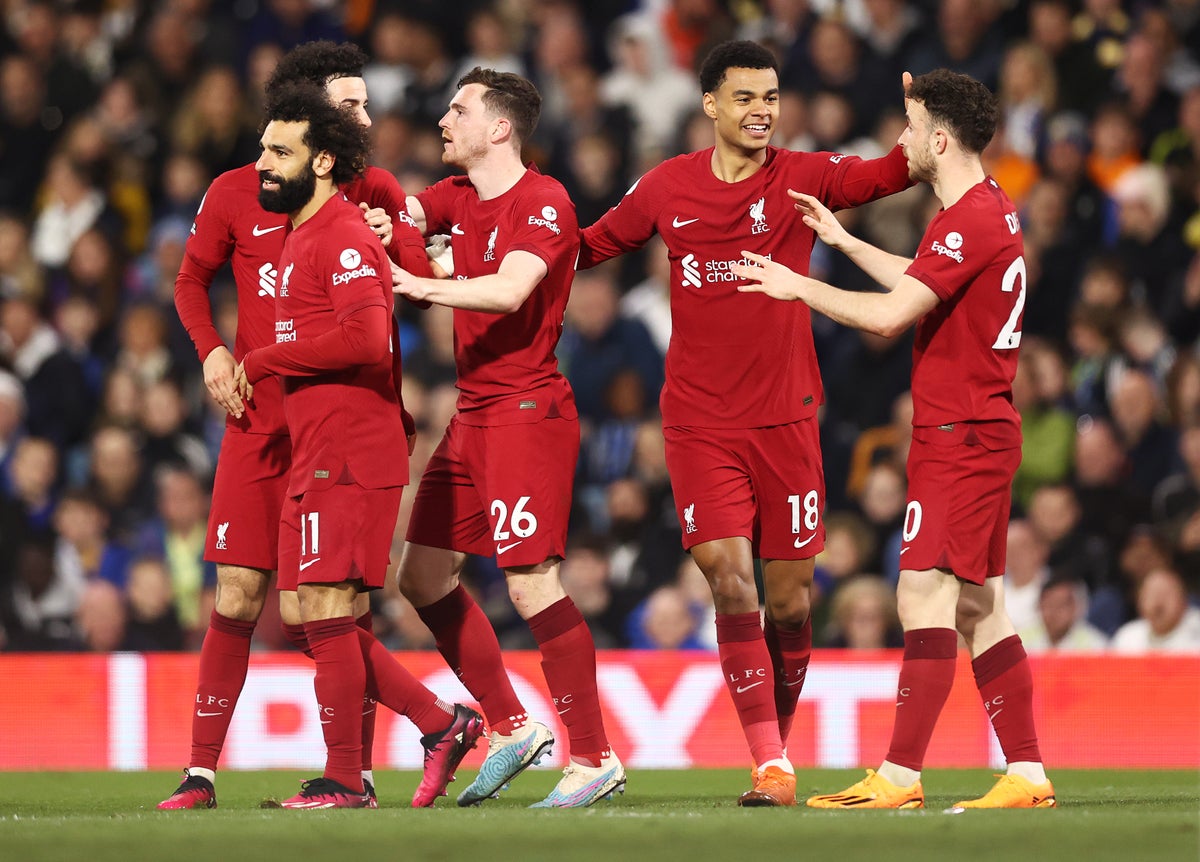 Liverpool won a game. Diogo Jota scored. There was a time when neither part of that was not news but, remarkably, this was a first victory since the 7-0 evisceration of Manchester United and, for a team who increasingly alternate between hammerings and more harrowing results, it was a similarly sizeable scoreline.
Meanwhile, Jota's brace were his first strikes in 33 games and over a year. Liverpool won an away game, which has a rarity, given that they had made it into the second half of April with a mere three triumphs on the road in the Premier League. They prevailed on their travels against one of the lesser lights which, as they amassed points tallies in the nineties, tended to be taken for granted.
Not this season. It was not a shock of the scale of Leeds United's October win at Anfield but a six-goal salvo was an emphatic answer to Liverpool's recent feebleness. Their habit had been instead to finish games where they were favourites without scoring. Liverpool arrived at Elland Road in the strange situation of still awaiting a first away league goal against anyone currently in the lower half of the table. They remedied that with two goals in four minutes in the first half, four at regular intervals in the second in what was, after the 7-1 at Rangers, still only their second biggest away win of the campaign.
Perhaps, given Liverpool's almost freakish impotence against their supposed inferiors, someone was bound to be thrashed soon or later. Perhaps it required a contentious opener to end such a long wait and a handball by Trent Alexander-Arnold went unpunished.
After drawing blanks at Nottingham Forest, Everton, Bournemouth, Wolves, Crystal Palace and Chelsea, the floodgates opened. They may, however, wish these six goals had been shared across more games. Remarkably, they have 22 goals in three league matches this season, but too few in many of the others.
From Leeds' perspective, two of the scorers felt inevitable. Cody Gakpo, who could have been plying his trade at Elland Road, marked his first appearance here with the easy opener. The Dutchman was a target for Leeds last summer; by the World Cup, it was apparent he was out of their reach and before the January window opened, it was confirmed he was joining Liverpool.
Meanwhile, Mohamed Salah always scores against Leeds and a double took his tally to nine in six meetings. Yet if the Egyptian finding the United net was the normal part, the abnormal came when Jota scored against anyone. He had scored 21 times by early April last season; after a barren year, he belatedly rediscovered his scoring touch.
The Portuguese has at least found other ways of contributing when he was a stranger to the scoresheet; he assisted Salah's first and Gakpo his second, meaning each of the front three was directly involved in at least two goals. The fourth was the pick: a high-speed break from Andy Robertson, who picked out Gakpo with a low centre. In turn, he switched play to Salah to curl in his shot.
The first irritated Leeds the most, though there was a certain carelessness as they lost the ball for two goals in swift succession, with Junior Firpo and Weston McKennie culpable. The left-back's poor pass was struck at Alexander-Arnold: he elbowed it down, exchanged passes with Salah and centred for Gakpo to finish.
Then McKennie was dispossessed, Jota sprinted away and fed Salah. He had made an angled run into the inside-left channel and rifled in a shot.
Jota's belated first goal, some 372 days after his last, was a reward for two of Jurgen Klopp's choices. Curtis Jones retained his place in midfield and curled in a pass. Jota, who was chosen ahead of Darwin Nunez, ran in behind Rasmus Kristensen for a similarly precise finish. Confidence restored, he hooked in his second on the half-volley from Jordan Henderson's pass. Nunez came off the bench to earn Alexander-Arnold his second assist, a deft pass bringing a similarly delicate finish.
If it was like being transported back in time to previous seasons for Liverpool, it took Leeds back all of eight days. After losing 5-1 at home in the Premier League for the first time when Crystal Palace visited, this was a new record, a maiden 6-1. If Javi Gracia has tried to bring a little more control after the ferocious pressing of Jesse Marsch, Leeds have now conceded 20 goals in their last five matches.
Even the one they scored was gifted by Liverpool. Ibrahima Konate stumbled in possession, Luis Sinisterra nipped to rob him, dart clear and dink a shot over Alisson. There was a second glimpse of hope when Brenden Aaronson clipped the bar from 25 yards.
Yet it became a chastening, worrying affair for them, with a gruelling run-in and the sense the relegation battle, once involving nine sides, is now down to five. Liverpool had another welcome glimpse of the past, with the substitute Luis Diaz making a comeback after six months on the sidelines. Leeds' worry is the immediate future. Painful as this was, they will hope they are facing Liverpool again next season.