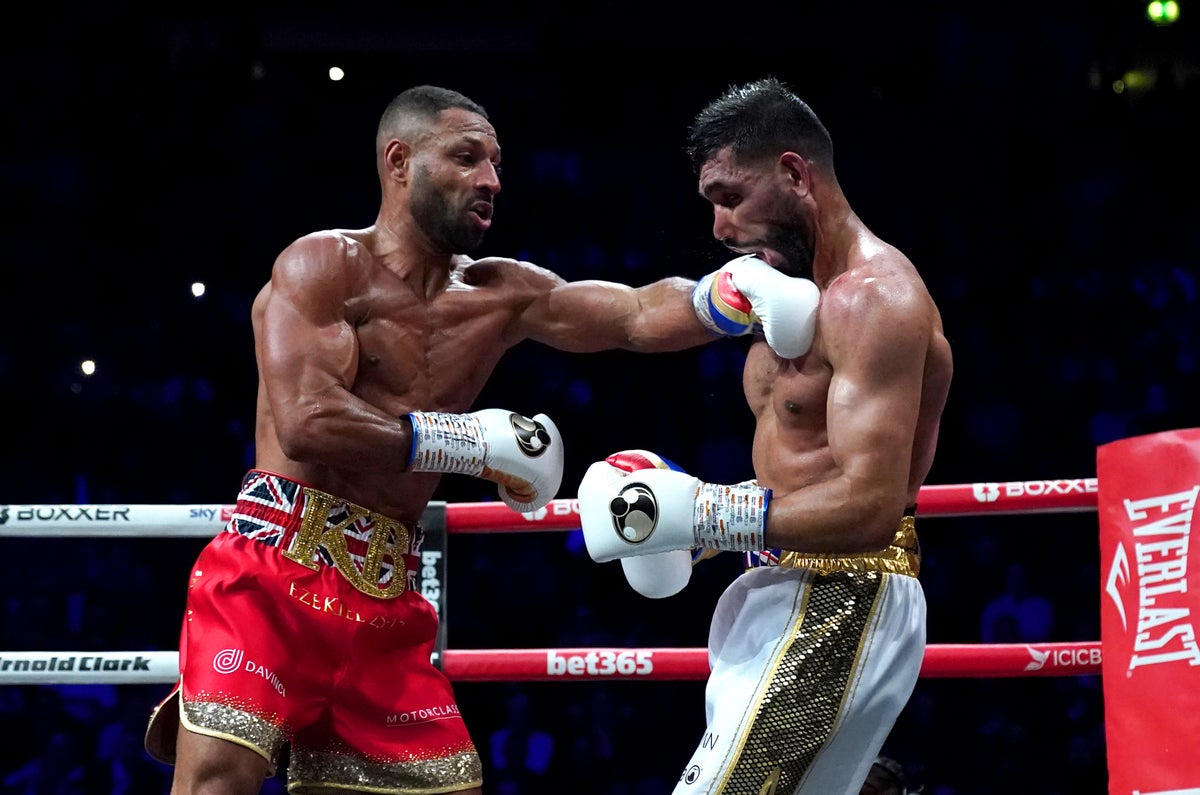 Kell Brook has said he is 'disgusted' by the news that Amir Khan tested positive for a banned substance after their fight last year.
Brook stopped Khan in the sixth round in February 2022, settling a bitter rivalry between the Britons, and it was revealed on Tuesday (3 April) that Khan tested positive for ostarine after the Manchester bout.
Khan, 36, announced his retirement shortly after the loss to Brook – who also retired after the fight – and his ban is backdated to April 2022, meaning it will expire in April 2024. An independent tribunal accepted Khan's claim that he had not taken the substance intentionally, and the former world champion said on Tuesday: "I've never cheated in my life, I would never cheat. I never will."
Brook, 36, has now responded, telling iFL TV: "I heard about it today, I heard it when everyone else heard about it. I'm disgusted. It's been over a year since we boxed. Finding out this guy [was] cheating in the fight that we had, it makes me feel sick.
"[After our fight], I followed him on Instagram, wrote him a private message on there, saying: 'Forget about the bad blood, nothing but love, we got it on for the fans, and I wish you and your family all the best.' After seeing and hearing about this today, he's been straight away unfollowed.
"I've got three beautiful kids, he's gone in there to hurt me on some drug that he's been on. It's a f***ing joke."
Brook, a former world champion himself, dismissed the idea that Khan ingested the substance unknowingly.
He said: "It's the same thing with everyone that's been caught out; 'They didn't know.' It's not about, 'He didn't know'. You know it's in your system, you've gone in there [with] bad intentions to hurt me bad and win the fight at all costs – which has come back and bit him in the a*** bad.
"It could be a completely different story. I could be in a wheelchair now, with him seriously destroying my life or killing me, making me crippled forever.
"Because I won, people are gonna forget about it. He came into that ring cheating, trying to boost himself up, trying to get the advantage on me – instead of doing it in a 12-week camp naturally. He's taken drugs to enhance his performance, so he can seriously hurt me in that ring, [which] you can legally get killed in. He needs to pay bad.
"If he was kind of thinking of coming back, he should never fight again, with what he's tried to do in that ring against me. It just makes me think of my three kids, that their dad might have been impaired – not the same guy."
Brook also insisted that the episode will affect Khan's legacy in the eyes of the public.
"He's gonna have to live with that," Brook said of the Olympic silver medalist. "People are gonna think: 'How long's he been on these drugs?' Of course it's gonna tarnish his career terribly. He's gone in there, got an absolute pasting, hammering. Imagine if he weren't on them drugs, he probably would've gone out in the first round. He were on all these drugs, and he still took a massive hiding.
"He's got to live with that beating for the rest of his life, he's got to live with cheating."
Click here to subscribe to The Independent's Sport YouTube channel for all the latest sports videos.