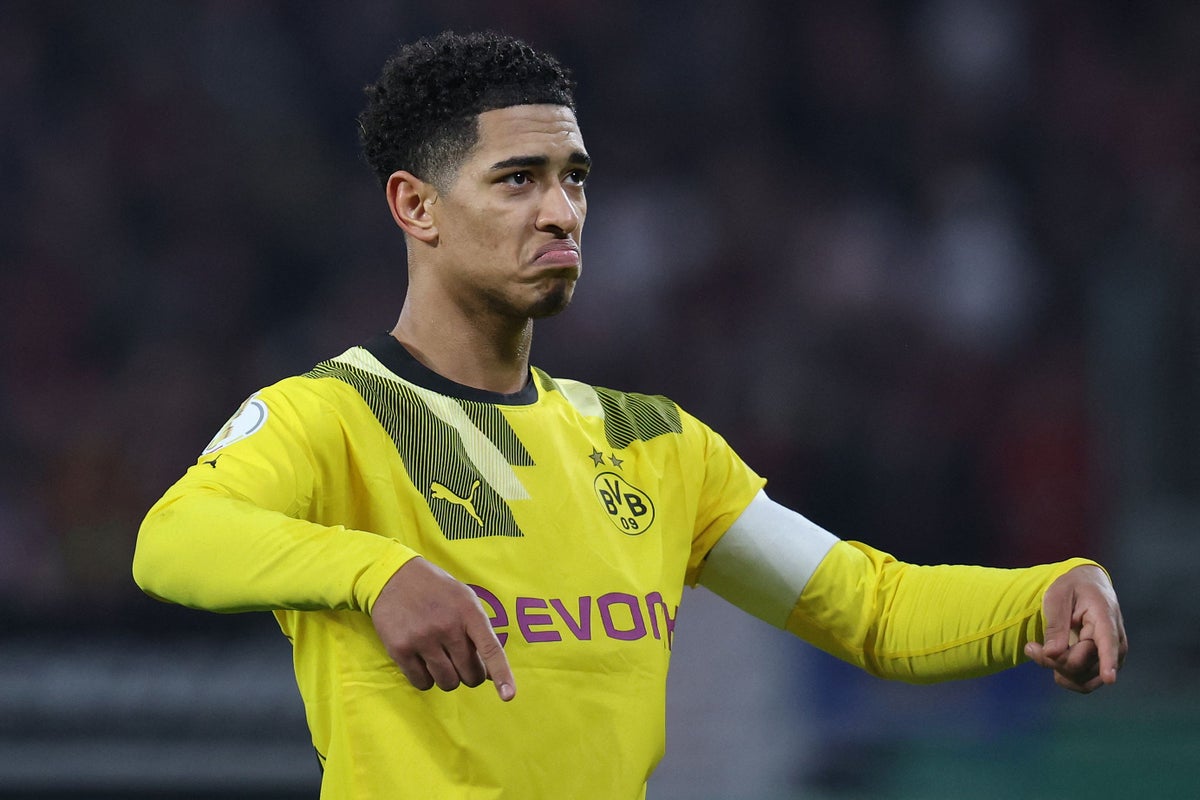 Liverpool and Borussia Dortmund may soon be united by more than just Jurgen Klopp. Each could have to face up to life without Jude Bellingham. There is a fundamental difference, of course, in that Liverpool never actually had Bellingham and Dortmund will at least be richly compensated – perhaps to the tune of £120m, maybe £135m – for their loss. Meanwhile, Liverpool could face a Bellingham-sized bill to rebuild their midfield. But as that will require at least two signings and preferably three, their resources could not be committed to one player, even if – and it is a big 'if', despite the charm offensive launched by Klopp, Jordan Henderson and Steven Gerrard – Bellingham had wanted to join. Other suitors may be able to promise him more: Champions League football, for example.
The news emerged as Manchester City were beating Bayern Munich; it was a different kind of illustration of what Liverpool are losing. The timing did not feel coincidental in another respect: the chances of a top-four finish almost vanished after a week when they took two points from a possible nine against City, Chelsea and Arsenal. The Champions League has brought Liverpool revenue of up to £100m a season but the coffers will look emptier next year.
An awful season may prove an anomaly. For now, however, it has had consequences. Liverpool have a largely laudable policy of waiting for the right player when recruiting, of opting not to sign a lesser footballer if their prime target will become available later. Alisson and Virgil van Dijk are the faces of a strategy and Liverpool chose not to buy a midfielder last summer. But Waiting for Jude became Anfield's answer to Waiting for Godot: Bellingham has not arrived and, unless he stays at Dortmund for another year, probably never will.
In the process, Liverpool have wasted a year. Their multitude of mismatched midfields this season at least had the possibility they were a means to an end, compromise choices acting as placeholders until the superstar was ready to sign. Instead, the problem remains but the solution looks elusive.
Instead, they have taken a different approach in their attempt to make up for lost time. Liverpool tend to act decisively at the start of transfer windows – they have signed Cody Gakpo, Darwin Nunez and Fabinho by stealth – but this time their move came sooner; instead of jostling for position at the front of the pack pursuing Bellingham, they withdrew from it.
Klopp likes signings to be made early in windows. Liverpool may pivot decisively to another, even if eventual arrivals may face unflattering comparisons with Bellingham. The encouraging element is that there could be plenty of candidates: the need for a fire sale at Chelsea means Mason Mount and Conor Gallagher look more gettable, Brighton would set a high price for Moises Caicedo and Alexis Mac Allister but will sell when it suits them. It is shaping up as a summer of a midfield merry-go-round: Youri Tielemans is out of contract at Leicester, Declan Rice likely to leave West Ham and relegation could reduce the price of many a fine player. The counter-argument is that none is Bellingham.
But under Klopp, Liverpool conquered Europe without a generational talent in the midfield. A formula of workhorses with chemistry had a potency of its own. But it was underpinned by a physicality that has started to desert players in their thirties and it necessitated excellent decision-making.
Now Liverpool can question theirs, and not merely whether, as they bought three forwards in 13 months and committed a club record £85m to the erratic Nunez, thought ought to have prioritised midfield sooner. Instead, past decisions are cast in another light. Naby Keita was another player they waited for, a phenomenon from the Bundesliga who was supposed to inject dynamism. He ought to be at his peak now: instead a £52m signing is likely to leave on a free transfer this summer. Had Keita met expectations, he could have been the successor to Henderson and Thiago Alcantara, presumably with an extended contract, looking a cornerstone of Klopp's second Liverpool side. Instead, he needs replacing.
Then there is the decline of Fabinho. If they did not foresee it, nor did many others. Yet the possibility this is not just one poor year before he returns to his best but a permanent slide is another reason why Liverpool need to split their budget multiple ways; in effect, they require a whole new midfield, even if the newcomers don't all play together.
Liverpool can also reflect on the wisdom of bending their own rules for a special talent. Thiago was an uncharacteristic signing for them, perhaps because of his exceptional gifts. But his arrival left Liverpool with a first-choice trio of the same generation, either in their thirties or, in Fabinho's case, soon to be and playing as if he already is. Thiago was almost the player who added another dimension to bring a historic quadruple, but he is injury-prone and compounded a problem with their age profile, which in turn became a reason for regression. Owners Fenway Sports Group may feel vindicated in their refusal to give a lucrative long-term contract to Gini Wijnaldum, another thirty-something with diminishing powers, but never bought a younger replacement.
That may have been a frustration for Klopp, the company man who broke ranks when he said he wanted Liverpool to take more risks in the market occasionally. The paradox is that cautiousness backfired last summer – perhaps they should have gambled on a bumper bid for Bellingham then, even if Dortmund would probably have rejected it – and now they cannot afford the gamble of going all in on one player, for fear of potentially not getting him now they have lost some of their appeal and leaving themselves short in the rest of the midfield. If Bellingham feels the great lost Liverpool player, they have lost out on and off the pitch this season.