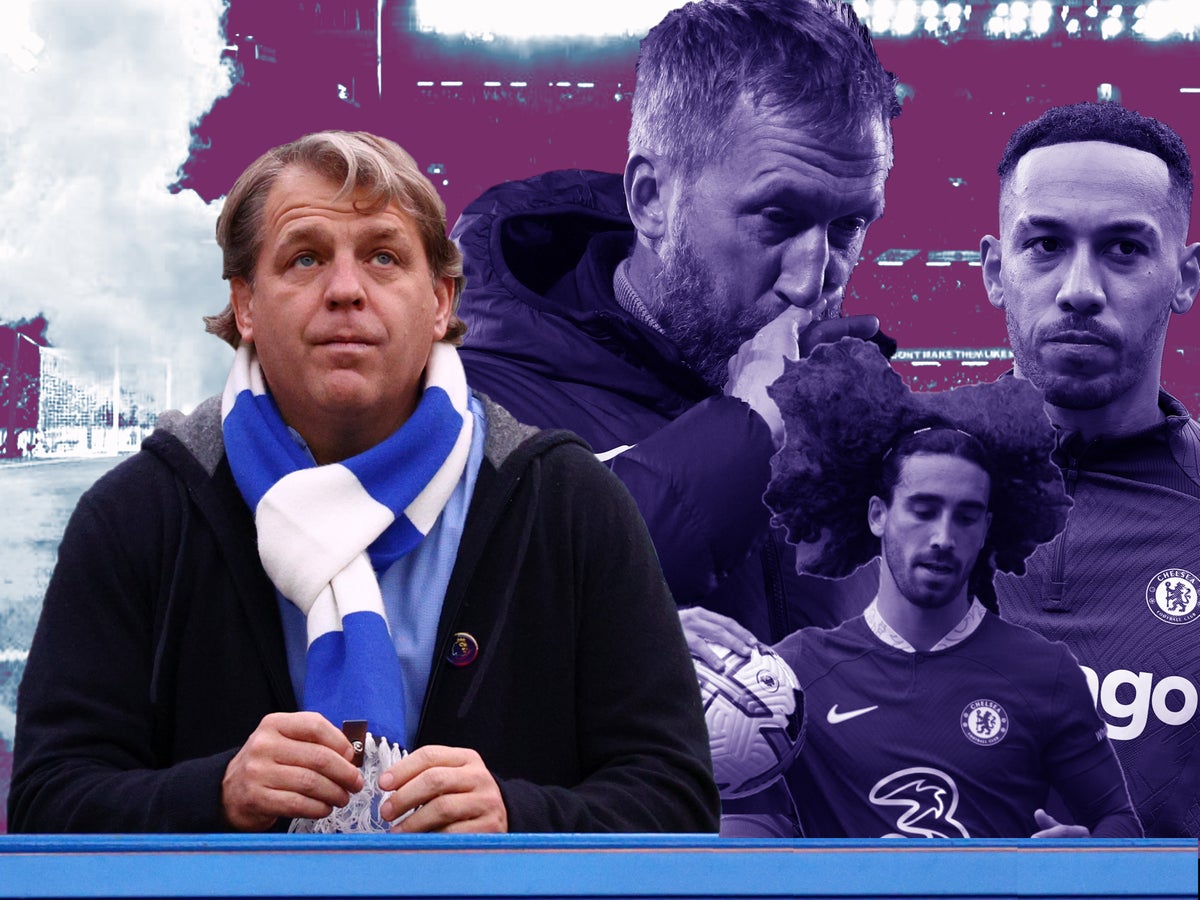 Never has so much been spent to accomplish so little. If Chelsea lose to Real Madrid, and the sacking of Graham Potter was a sign they had precious little hope of victory with him, there is a case for deeming theirs one of the worst seasons in footballing history. They have committed around £600m in transfer and loan fees for players and managers, exited both domestic cups without scoring, let alone winning, languish in the lower half of the Premier League, without beating any of its top eight teams and having been outscored by the team in 19th.
It is hard to think of a bigger gulf between expenditure and achievement. If Potter has been the face of failure, Todd Boehly is the architect of it. It would complete a perfect year of dreadful decision-making if the manager he sacked, Thomas Tuchel, ends the season winning the Champions League with Bayern Munich. Boehly got rid of one of the world's best managers and replaced him with an inferior figure, lacking the charisma and decisiveness elite clubs require. Chelsea paid Brighton £21m for Potter, only scored 21 league goals under him and now face another hefty pay-off.
Games have been lost: so, for Boehly and Clearlake Capital, has credibility. Supporters' trust in this board may be gone for good. Perhaps Chelsea's American owners underestimated Tuchel's popularity with the fanbase. Rather fewer bought into the idea of Potter; most were not in outright opposition, but the new regime tried to sell a downgrade as a masterstroke. They sought to suggest there was a long-term plan, but simply signing young players is not a strategy. Nor is gazumping rival clubs especially as, so far, Manchester City may be relieved they did not buy Marc Cucurella and Arsenal are prospering with Leandro Trossard, their alternative when Chelsea pipped them to Mykhailo Mudryk. Maybe Potter, hired when Brighton were fourth, was another who was the flavour of the month, a knee-jerk reaction dressed up as a long-term approach.
An air of delusion has gripped Chelsea this season. The reality is they had a Champions League-winning team two years ago and a far worse side now. If results ought to improve, given the scale of their underachievement and the calibre of players they possess in their bloated squad, there is a danger their group will be weakened again as they pay the price for a year of terrible choices.
Overspending this year, coupled with a probable failure to qualify for Europe and a commensurate loss of revenue, will force them to sell. In turn, they may have to dispense with some of their valuable assets, like the double player of the year Mason Mount. Boehly and co have given Kalidou Koulibaly a contract until he is 36, so he will remain. Raheem Sterling is on huge wages until 2027. Pierre-Emerick Aubameyang, bought and then marginalised, has a deal until 2024. No one is likely to sign any of them, while incompetence with the paperwork on deadline day in January meant Hakim Ziyech stayed. So if Chelsea are lumbered with the players they want to lose – and the reality is few European clubs will pay the prices to take many off their hands – a squad already lacking a scorer, unless Romelu Lukaku is rehabilitated, could look still more lopsided. Chelsea could remain prisoners of their surreal 2022-23 season for quite some time.
Thus far, Boehly and Clearlake's sole achievement appears to be finding a loophole in Financial Fair Play rules so they can amortise fees over seemingly never-ending contracts. Yet that means they have mortgaged their future, and for what? Enzo Fernandez is at least a high-class player but many of the prices Chelsea are amortising for much of the next decade look ludicrously inflated.
If footballers' valuations are scarcely set in stone, it nevertheless feels as though Mudryk's £88m fee and Cucurella's £63m price could have been double a more realistic number, that Fernandez and Wesley Fofana, for all their considerable talent, were each £20m too much, that no one else would have paid as much for the ageing Koulibaly or the emerging Noni Madueke, David Datro Fofana and Carney Chukwuemeka.
Some of Chelsea's bets on potential may come off; others might just languish on the books forever. They have had little short-term return: thus far, perhaps none of their 16 signings ranks as a success. Committing £16m in loan fees and wages for Joao Felix, whose evident talent, is unlikely to spare them their worst campaign in decades, looks a false economy. The resale value of their recruits now would be some way short of £600m.
Bringing needlessly drastic change to a team who finished third last year was odd, to say the least. The disruption of the policy of permanent recruitment has created problems for Potter while Chelsea could be running out of non-homegrown slots in Premier League squads for future years to accommodate everyone. They have amassed directors of football, albeit with differing job titles, while having no clean sense of direction.
Potter still underachieved grievously on the pitch but it amounts to an extraordinarily bad year in the boardroom. Boehly and Clearlake blundered in with the arrogance of billionaires who assumed that money meant they knew best but knew too little and understood even less. Some of the stories about their ignorance and incompetence are probably apocryphal, but not all. Some of their buys may come good in time, but not all. For the meantime, however, they are an object lesson in how not to run a football club.