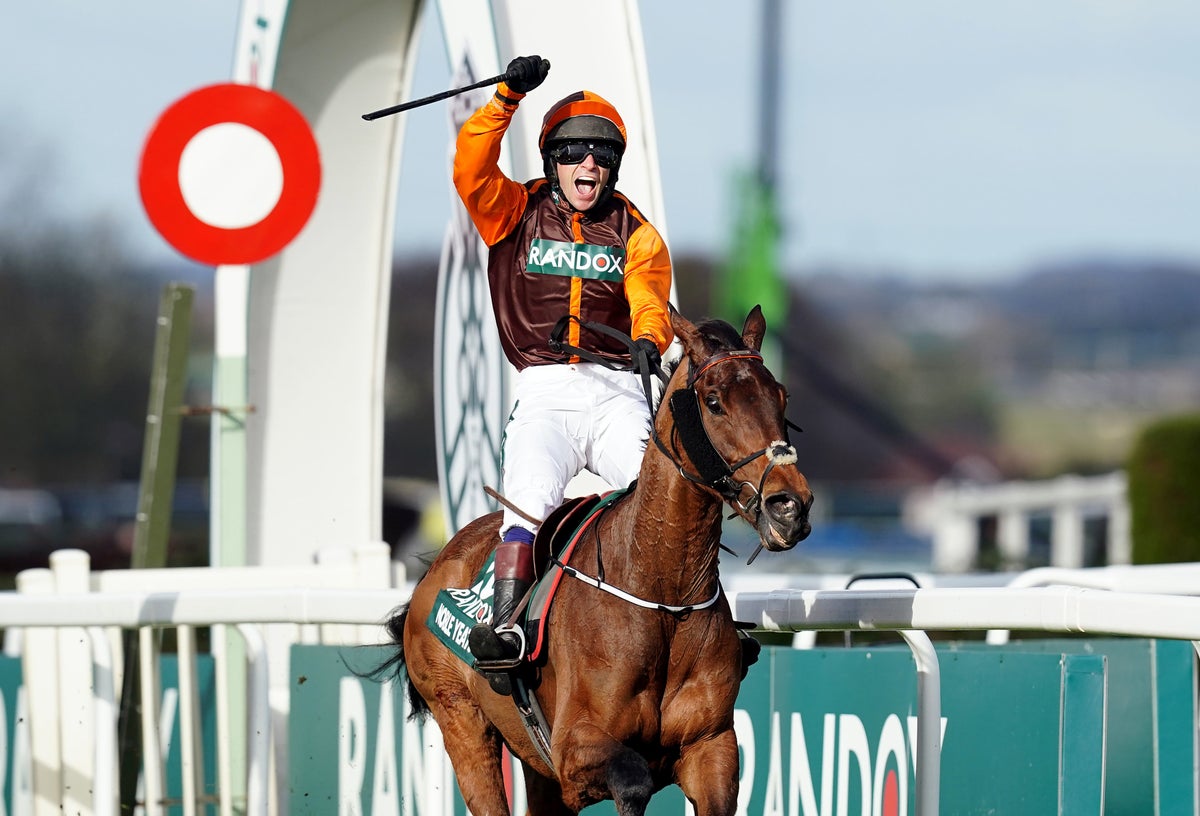 The most famous event in the British racing calender returns with the Grand National once again returning to Aintree.
First run in 1839, the steeplechase sees the competing horses and jockeys clear 30 fences in the hopes of joining the likes of Red Rum and Tiger Roll in horse racing history.
Each year 40 runners are selected to tackle the four-and-a-bit mile course after a longer list of entrants is narrowed down before the start of the race on 15th April.
Last year's winner Noble Yeats is in the field once again and is hoping to make it back-to-back wins in the National. But, he faces stiff competition from the Lucinda Russell trained Corach Rambler who impressed at Cheltenham in March and Gordon Elliott's Delta Work – most famous for beating Tiger Roll in the 2022 Cheltenham Cross Country Chase.
Here are the runners and current odds for the 2023 Grand National:
Grand National runners and odds
Corach Rambler (T: Lucinda Russell; J: TBC) 13/2
Delta Work (T: Gordon Elliott; J: TBC) 8/1
Noble Yeats (T: Emmet Mullins; J: TBC) 8/1
Gaillard Du Mesnil (T: Willie Mullins; J: TBC) 12/1
Le Milos (T: Dan Skelton; J: TBC) 12/1
Any Second Now (T: Ted Walsh; J: TBC) 14/1
Longhouse Poet (T: Martin Brassil; J: TBC) 14/1
Mr Incredible (T: Willie Mullins; J: TBC) 14/1
Ain't That A Shame (T: Henry De Bromhead; J: TBC) 16/1
Capodanno (T: Willie Mullins; J: TBC) 16/1
Galvin (T: Gordon Elliott; J: TBC) 20/1
Our Power (T: Sam Thomas; J: TBC) 20/1
The Big Dog (T: Peter Fahey; J: TBC) 20/1
Vanillier (T: Gavin Cromwell; J: TBC) 20/1
Carefully Selected (T: Willie Mullins; J: TBC) 25/1
Lifetime Ambition (T: Mrs John Harrington; J: TBC) 25/1
The Big Breakaway (T: Joe Tizzard; J: TBC) 25/1
Back On The Lash (T: Martin Keighley; J: TBC) 33/1
Coko Beach (T: Gordon Elliott; J: TBC) 33/1
Mister Coffey (T: Nicky Henderson; J: TBC) 33/1
Roi Mage (T: Patrick Griffin; J: TBC) 40/1
Velvet Elvis (T: Thomas Gibney; J: TBC) 40/1
Darasso (T: J P O'Brien; J: TBC) 50/1
Dunboyne (T: Gordon Elliott; J: TBC) 50/1
Eva's Oskar (T: Tim Vaughan; J: TBC) 50/1
Fortescue (T: Henry Daly; J: TBC) 50/1
Fury Road (T: Gordon Elliott; J: TBC) 50/1
Gabbys Cross (T: Henry De Bromhead; J: TBC) 50/1
Hill Sixteen (T: Sandy Thomson; J: TBC) 50/1
Minella Trump (T: Donald McCain; J: TBC) 50/1
A Wave Of The Sea (T: Joseph O'Brien; J: TBC) 66/1
Diol Ker (T: Noel Meade; J: TBC) 66/1
Enjoy D'allen (T: Ciaran Murphy; J: TBC) 66/1
Escaria Ten (T: Gordon Elliott; J: TBC) 66/1
Sam Brown (T: Anthony Honeyball; J: TBC) 66/1
Cloudy Glen (T: Venetia Williams; J: TBC) 80/1
Born By The Sea (T: John Gilligan; J: TBC) 100/1
Cape Gentleman (T: John Joseph Hanlon; J: TBC) 100/1
Francky Du Berlais (T: Peter Bowen; J: TBC) 100/1
Recite A Prayer (T: Willie Mullins; J: TBC) 100/1