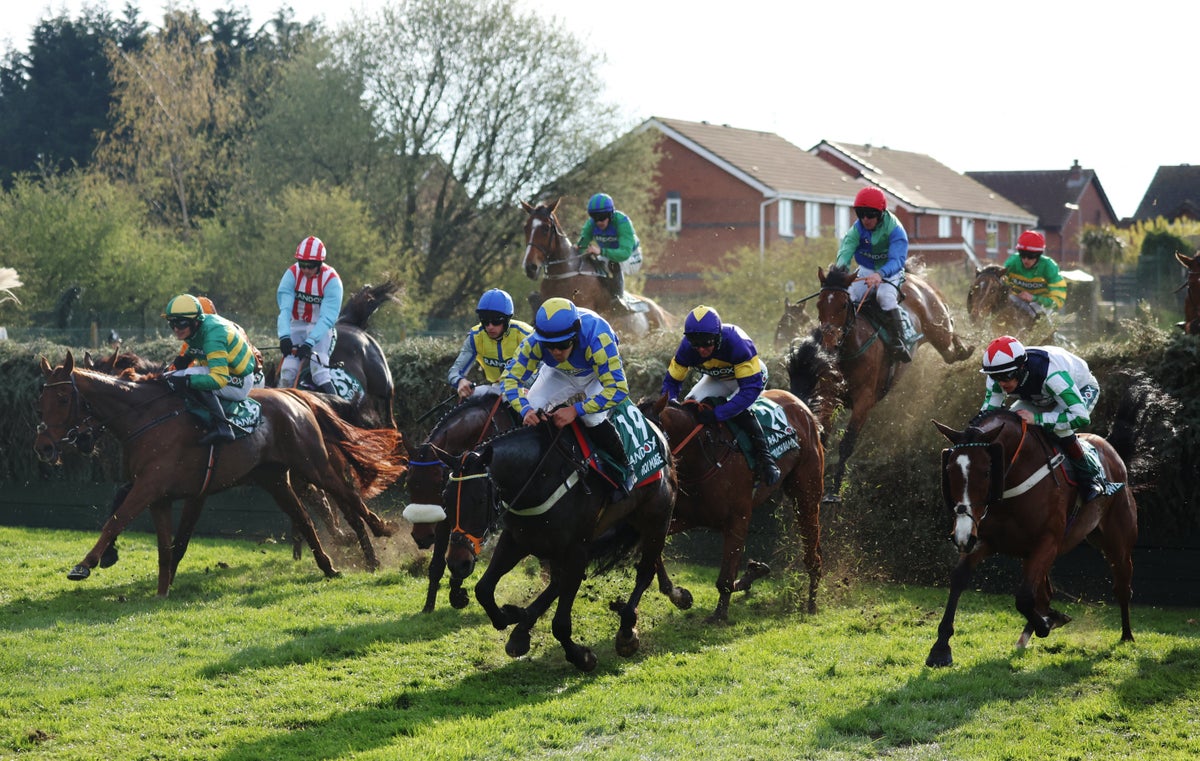 Corach Rambler stormed to victory in the Randox Grand National to the delight of trainer Lucinda Russell and jockey Derek Fox.
Backing up success at last month's Cheltenham Festival, the nine-year-old negotiated a chaotic race to validate its pre-race status as an 8-1 favourite.
The race was delayed by around 15 minutes after protesters from Animal Rising got on to the track. Corach Rambler grabbed the lead over the last hurdle and then pulled away from a final test launched by Vanillier and Gaillard Du Mesnil, who finished second and third.
A brave effort from last year's winner Noble Yeats, despite a big weight, secured an impressive fourth. It was a second victory in the world's greatest steeplechase for Russell and Fox, after One For Arthur in 2017.
Russell said: "Those guys that went out to protest on the course, they think it's about horse welfare but that horse loves the sport. He loves everything that he does. He's kept in the best condition and I'm just so delighted that he can run in a race like that and perform like that.
"He has got greatness and it's what he deserves. Corach Rambler, in our hearts, is just the best horse. Now in the public hearts he is as well. To win the National, I know how important it is, I know how it changed my life with [One For] Arthur – for Corach to achieve that too is just fantastic.
"It's all about the horse, for me it's not about the betting – though I did back him and quite a lot actually.
"I hope those guys who were protesting will look at our website and our Facebook posts and see how they are looked after. It is so important they understand how we care for them every inch of the way.
"It is about Corach, he is just amazing. He took to those fences brilliantly, he understood them, he worked them out – he loved it."
Fox had sat out the first two days of the meeting in order to recover from injury in time to ride Corach Rambler.
He said: "He is just the most wonderful thing ever, he deserved to win this. I got a fall last week and banged my shoulder, it was far from ideal. I was worried all week, I thank God I was back in time because it was the thrill of my life to ride him.
"It's thanks to the support of Lucinda and Scu (Peter Scudamore, assistant trainer and Russell's partner) for having the faith in me to put me up after not riding all week. I feel very lucky to be working for these great people.
"I think he'd the profile and he's loads of class – I just can't believe it."
Any Second Now, Cape Gentleman, Capodanno and Velvet Elvis all pulled up.
While Delta Work, Darasso, Cloudy Glen, Diol Ker, Eva's Oskar, Galvin, Longhouse Poet, Lifetime Ambition and Gabbys Cross, Recite A Prayer and Mr Incredible were all unseated.
Aintree results
13.45 – EFT Systems Maghull Novices' Steeple Chase (Class 1) Grade 1 2m
1 Jonbon (Aidan Coleman) 2-11 Fav
2 Marvel De Cerisy (Rachael Blackmore) 15-2
3 Fusain (B S Hughes) 40-1
14.25 – Village Hotel Club Handicap Hurdle (Class 1) Grade 3 3m ½f
1 West Balboa (Harry Skelton) 9-2 Fav
2 Pounding Poet (R T Dunne) 50-1
3 Mill Green (N de Boinville) 14-1
4 Good Time Jonny (Liam McKenna) 11-2
15.00 – Turners Mersey Novices' Hurdle (Class 1) Grade 1 2m 4f
1 Irish Point (D N Russell) 5-1
2 Kateira (Harry Skelton) 14-1
3 Hermes Allen (H Cobden) 3-1 Fav
15.35 – JRL Group Liverpool Hurdle (Class 1) Grade 1 3m ½f
1 Sire Du Berlais (M P Walsh) 8-1
2 Marie's Rock (N de Boinville) 5-1
3 Flooring Porter (D E Mullins) 3-1 Fav
16.15 – William Hill Freebooter Handicap Steeple Chase (Class 1) Grade 3 3m 1f
1 Midnight River (Harry Skelton) 15-2
2 Bowtogreatness (Ben Jones) 12-1
3 Kinondo Kwetu (Jonathan England) 10-1
17.15 – Randox Grand National Steeple Chase (Grade 3) 4m 2½f
1 Corach Rambler (D R Fox) 8-1 Fav
2 Vanillier (S W Flanagan) 20-1
3 Gaillard Du Mesnil (P Townend) 10-1
4 Noble Yeats (S Bowen) 10-1
5 The Big Dog (A Coleman) 12-1
6 Born By The Sea (P Enright) 50-1
7 Roi Mage (F De Giles) 33-1
8 Mister Coffey (N de Boinville) 33-1
18.20 – Weatherbys nhstallions.co.uk Standard Open National Hunt Flat Race (Grade 2) 2m 1f
PA contributed to this report