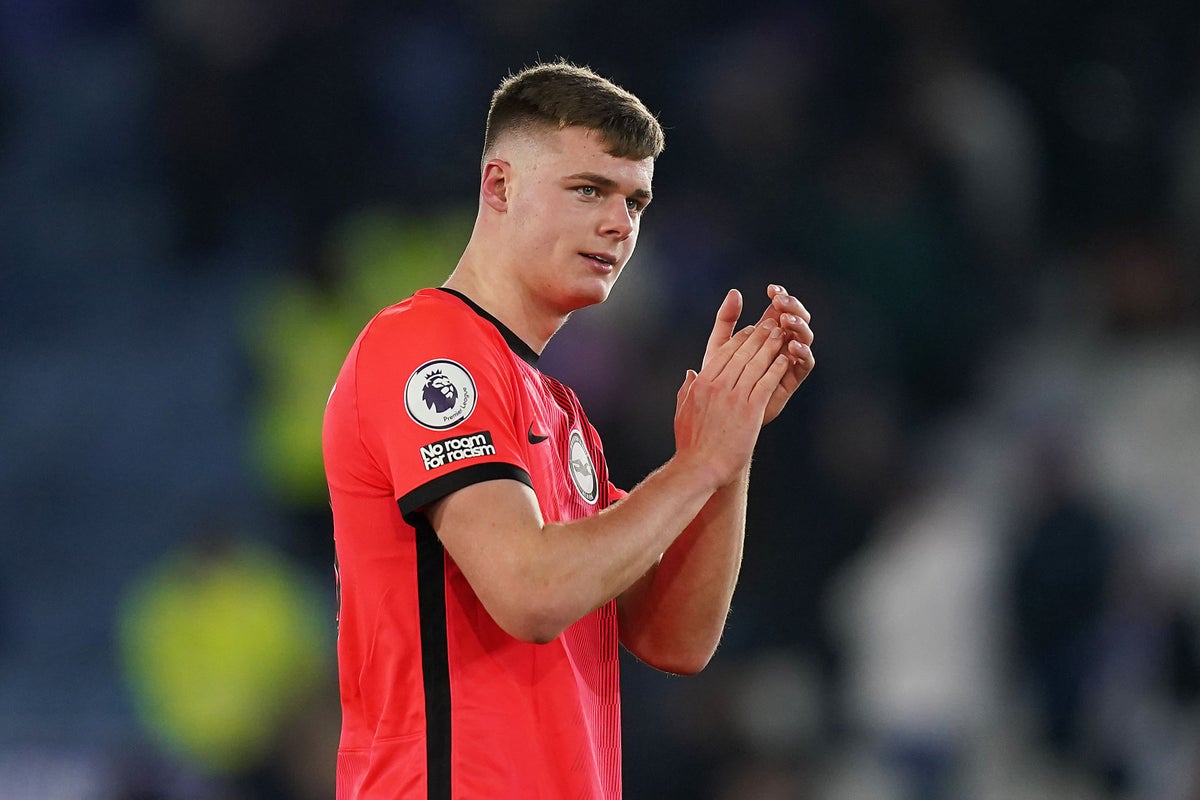 Brighton boss Roberto De Zerbi described Evan Ferguson as "unique" after the teenage forward's latest goal secured his side a place in the FA Cup quarter-finals.
The Seagulls' 1-0 win at Stoke saw Ferguson finish from close range on the half-hour mark at the end of a fine move.
It was a fifth goal of the season for the 18-year-old Republic of Ireland international and fourth in his last nine appearances.
And De Zerbi said of Ferguson: "He is unique for us in terms of quality, in terms of characteristic. He knows very well the way to score.
"I think he can and he has to improve, in the quality of play, in ball possession, to keep the ball better.
"But he is 18, he is (born in) 2004, and he will improve for sure, because I know the guy, I know his passion, his attitude, and I have no doubt."
Ferguson's goal was set up by a pass from Kaoru Mitoma following an excellent through-ball by Lewis Dunk, the Brighton skipper making his 400th appearance for the club.
De Zerbi labelled Dunk "an incredible player, incredible guy", and also had praise for first-time starter Facundo Buonanotte, another 18-year-old, saying of the Argentinian midfielder signed in January: "I think he played a good game. I'm sure he can become a great player for us for the future."
Winning the FA Cup would bring a first major trophy in the history of Brighton, who, at eighth, are currently higher in the Premier League than they have finished in any previous season.
"I can promise nothing but I can promise every day we work hard to make them (the supporters) happy and proud of their team, their club – only this," said the Italian.
"I understand they want to win the trophy, and we also want to win, but to win, we need to work, to improve and to believe. But for the moment we have to think only of West Ham (who Brighton host in the league on Saturday), because we have the possibility to arrive in Europe."
De Zerbi felt his side were "deserved" winners of a contest that saw them almost add a second in stoppage time when substitute Danny Welbeck hit a post.
Stoke, who are 17th in the Championship, went close to equalising in the 65th minute through on-loan Manchester United defender Axel Tuanzebe.
Tuanzebe, signed last month, was starting a match for the first time since January 2022, when he was on loan at Napoli.
When asked if Tuanzebe was ready for a lot more, Stoke boss Alex Neil said: "I hope so. Axel's obviously a top player, it's just his tolerance levels in terms of what his body can get through, that's going to be the question.
"He's been in really good shape. I thought his performance was excellent against top opponents, considering that's his first proper game in I think 14 months. I think he deserves huge amounts of credit.
"His tolerance levels are unknown – it's not as if it's a problem I foresee for Axel, he may well go and rattle out the rest of the games until the end of the season. But ultimately, when you've been out for 14 months, how much can your body handle before it starts to break itself down? I know how you try to manage players back, to try to make sure we don't over-expose them."
Neil, who made seven changes to his starting line-up to Brighton's five, added of Stoke's display as a whole: "I thought we more than did ourselves justice. I thought the lads left everything on the pitch, I don't think we could ask much more of them."