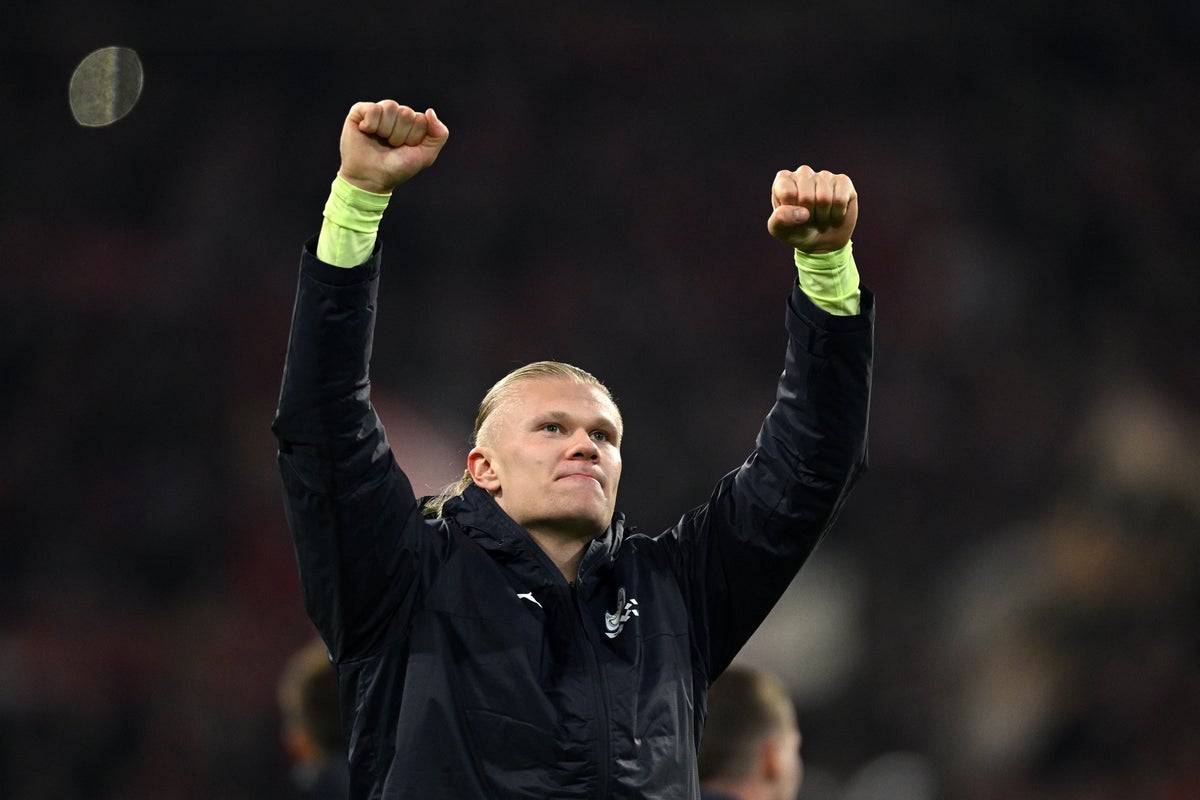 As the feeling grows that Manchester City might finally win the Champions League this season, their quarter-final might also have revealed how Champions Leagues are going to be won in the future.
It was difficult to think of a recent game in the competition so defined by No 9s. That isn't just down to the obvious quality of Erling Haaland, but also the lack of such a forward at the other end. Bayern Munich had clearly made space for such a player, to the extent that they kept brilliantly working the ball to the edge of the City area only to not know what they wanted to do with it. Eric Maxim Choupo-Moting has performed creditably for the German champions but the demands get greater the higher you go. He looks a compromise choice, as was the case with so many of Bayern's attacking decisions on the night.
No such compromises were necessary for Pep Guardiola. He had Haaland.
The manner in which this stood out is all the more surprising given that the game was managed by two figures who would usually need nines less than any other. Both Guardiola and Thomas Tuchel are arguably the most innovative and creative tactical coaches in the game, and both have actually won this competition without proper No 9s.
It reflects how this tie might point to a future shift in the game, if one that harks back to its past.
It may herald the beginning of the return of the centre-forward.
It is well known that Bayern expected to secure Haaland's services before City swooped, and they are now actively looking for a top-class forward. There is a growing expectation in Germany they can get Napoli's Victor Osimhen, and the Bundesliga champions certainly have the budget.
They aren't the only major club looking at him, though, in what could be a scramble for the Nigerian. Manchester United are also prioritising a nine and want Osimhen. Whoever loses out will have to turn to a limited – but growing – list of alternatives.
They include Eintracht Frankfurt's Randal Kolo Muani, Borussia Dortmund's Youssoufa Moukoko, Brighton's Evan Ferguson, Atalanta's Rasmus Hojlund and even AC Milan's Rafael Leao.
While the last of those has become hugely admired for his work in another role, it is said by those close to him that his preferred position is centre-forward.
This points to how not all of these players have had the same development, and not all are of similar levels or even attributes.
Haaland is clearly unique, a product of his own physicality and mindset, who stands totally apart. Similar can be said of Kylian Mbappe who can play No 9 as well as almost anyone in history. The emergence of the two next best players in the world arriving in that position, though, can help herald cultural change.
The development of this relatively disparate group of forwards will only further it, as a number of youth academies now give deep consideration to how to coach No 9s. There is an increasing interest in how to hone their highly instinctive abilities, going against the homogenous production of midfielders and creators.
Much of the latter has been defined by Guardiola, so it would bring things full circle if he was also to herald a grand switch back to No 9s. This is what Haaland can do. This is why they signed him.
As one figure close to the club set-up said, City would probably be no worse in the league without Haaland, but he undeniably brings them much closer to Champions League glory. That similarly isn't just down to the goals, even though they give Guardiola those singular moments that can suddenly decide ties – bursts of pure execution amid so much build-up. He also smoothes Guardiola's thinking. By having to put Haaland in the side, there is less scope for the Catalan to overthink things. It's harder to change shape elsewhere in the team when you have to play Haaland as a focal point.
It might well set – or reset – a trend for the game. The competition still has to be won of course. This quarter-final, however, was disproportionately settled by No 9s. Next up is an even bigger tie, between Haaland and Karim Benzema.
Real Madrid are already seeking a successor to the French forward. This, in so many ways, is the future.