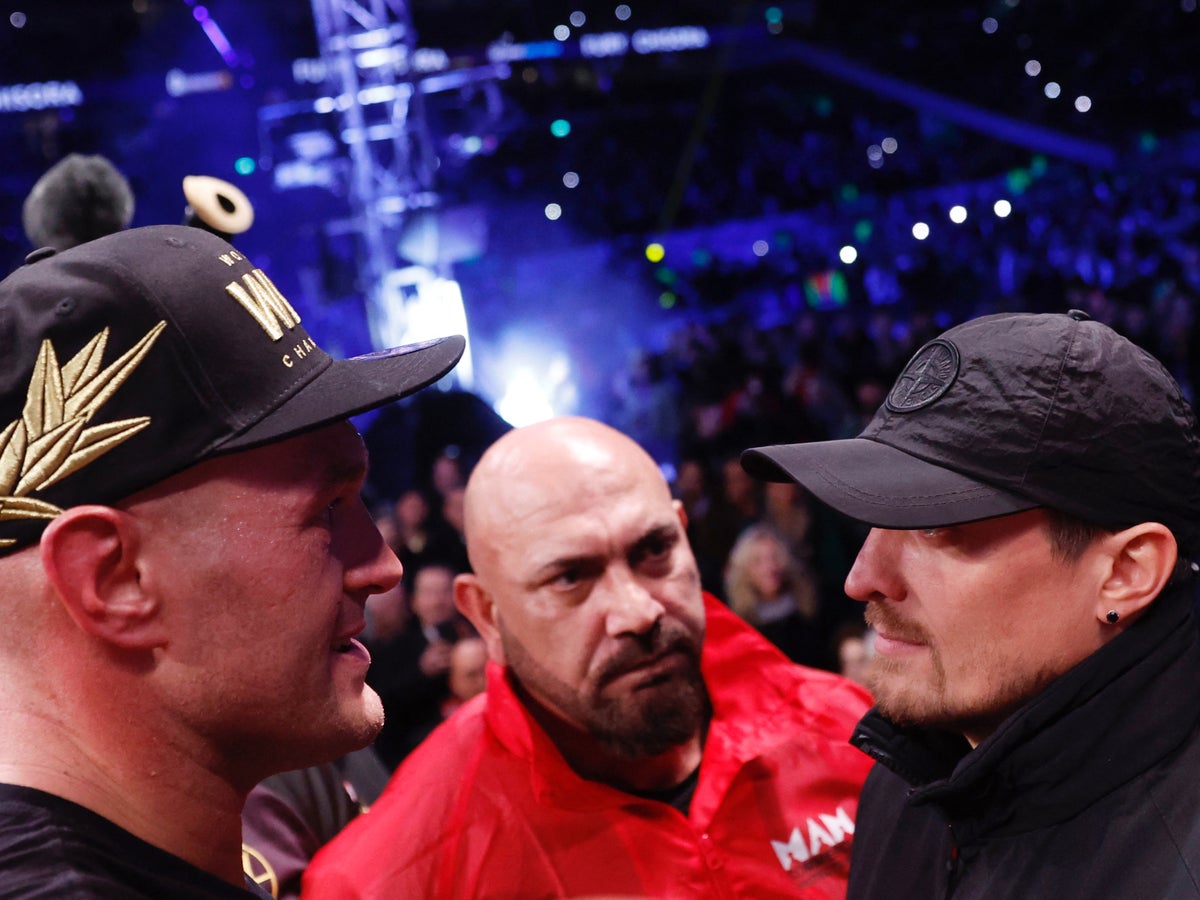 So Tyson Fury will try to unify the four major heavyweight belts for the first time in history and Anthony Joshua will fight three times in 2023.
Welcome to the fantasy land of the fighting giants that rule the boxing world in a year when the essential fights must take place. Please, if there is a boxing god, can we have a few of the scraps we need.
However, there are no boxing gods, just men with too much power, wearing blinkers and surrounded by hundreds of others who call on them like they are medieval lords. It is a self-righteous festival of power and wealth-sharing that harms the sport.
Fury wants Oleksandr Usyk in a fight that was firmly made and, according to most, there were no meaningful obstacles back in about October. Usyk fancies the job and that makes it even more intriguing. The line from Fury about Usyk's tiny size is a convenient piece of foolery; Usyk is big enough to do what he needs to do. It's not a tractor-pulling contest.
Last December, after midnight, I spoke to Usyk, who was sheltering from the cold of a north London night, and he was reassuringly calm. Off somewhere else at Spurs that long night, Fury was ranting and raving and promising to deliver the earth; the distant echo of his laughter was a stark contrast to the cold-eyed stare and frosty words from Usyk. "Why would I fear him?" He seemed genuinely shocked that it was even a question. Contracts have been sent, lawyers have been summoned.
So, Fury vs Usyk is a definite maybe, any time after March and perhaps in some faraway, gold-lined desert city in the Middle East. There are cities under development where sand can be dimmed to a bearable heat; getting two grown men to strip seems like an easy magic trick. There will be bold talk by broadcasters, promoters, rival boxers, the heads of the sanctioning bodies and then, hopefully in the chaos of a doomed fight, a saviour can be found to get this enormous bleeding fight across the line. We need it urgently.
However, it is also likely that there will be negotiation fatigue and that reputations will be stretched; if it collapses, there needs to be a serious re-evaluation of the role sanctioning bodies play in the sport and a hard-line assessment of the unholy influence given to the people with the cash, the people in power. The last few years have been a disaster for the sport in many ways, with greed, stupidity and outright lies ruining fight after fight. The sanctioning bodies have been complicit in this debacle.
It is either extreme self-preservation and a very real fear of losing the money guaranteed by existing deals, or a bit of both, that keeps the best men apart; the women fight, they shame the men. It is time for the boxers – Usyk and Fury are just two of the dozens of fighters in bouts that should have been made last year or even the year before – to see some sense. It is time for the bravest of men to stop hiding behind the men in suits at the massive promotional companies; they are men who work exclusively and lucratively with the deep-pocketed broadcasters. I understand that it takes time to build relationships, secure deals and make fighters. I have written thousands of articles about mismatches and only skirted the boundaries of the truth. Remember, nobody is pure in boxing.
This is not a clarion call for anarchy, I don't want to disband the governing bodies, I just want competition. The biggest promoters in the world already have too many fighters, most are kept waiting on hopes and prayers, promises and lies. Sure, some unbeaten and protected boxers will lose: see the Lewis theory above, please.
There were some great domestic fights last year, fights I never thought would happen, but too many men are now protected in the British boxing business that a breakaway group could so easily form with legitimacy. We have four recognised sanctioning bodies at world level, we do not need two at domestic level. That would, trust me, be a disaster.
On the global side, which is complicated by arrogance, the welterweights, lightweights and heavyweights must fight; set an agenda that shuts up the often common-sense assaults by Jake Paul. How transparently bad is our boxing business that a boy in his twenties, with a handful of easy fights, can become both a major attraction and a breath of fresh air.
Enough is enough – give us Fury v Usyk, make us all proud. Joshua would then become a fun excursion, a man on a personal mission of redemption.