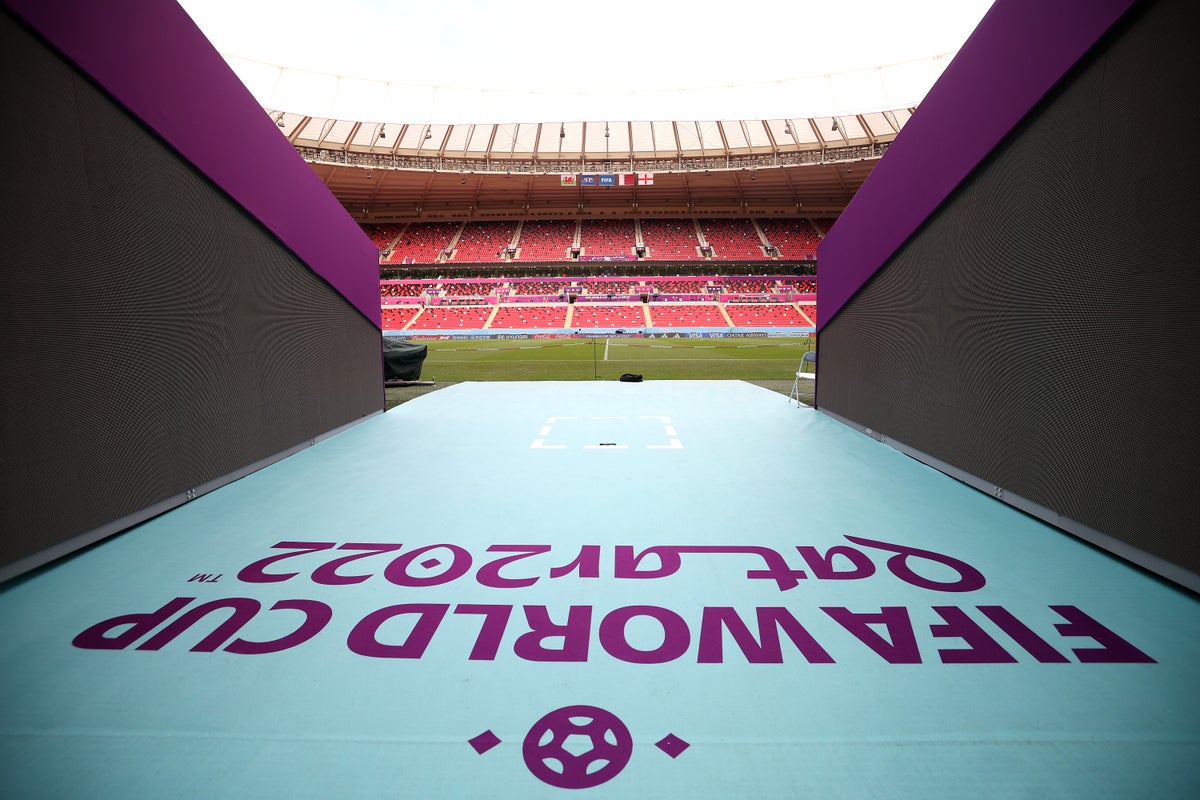 1669744020
Wales vs England line-ups
Wales XI: Ward, Williams, Mepham, Rodon, Davies, Allen, Ramsey, Ampadu, James, Moore, Bale
England XI: Pickford, Walker, Stones, Maguire, Shaw, Rice, Bellingham, Henderson, Foden, Kane, Rashford
Michael Jones29 November 2022 17:47
1669743708
Wales vs England
Team news should be coming out shortly for the match. Gareth Southgate named an unchanged side for both games against Iran and the USA but will he think about starting Phil Foden this evening?
Michael Jones29 November 2022 17:41
1669743408
England and Wales qualification permutations
England sit top of Group B heading into tonight's matches and have one foot in the knockout stages already whilst Wales face an uphill battle in their quest to make it into the last 16.
What do the teams need to secure a spot in the next round?
England will go through regardless if they avoid a four-goal defeat by Wales. They'll also finish top of Group B if Iran and the USA draw and they don't lose to Wales by four or more goals.
If England draw against Wales and Iran beat the USA, Iran top the group and England finish second.
If England draw to Wales and the USA beat Iran by at least four goals, the USA will finish top of the group, with England in second.
If England lose to Wales and the USA beat Iran, USA finish top of the group and England qualify second.
Wales must beat England and hope for a draw between the United States and Iran. If USA or Iran win, Wales will need to beat England by four or more goals to finish second ahead of them.
Michael Jones29 November 2022 17:36
1669743108
England and Wales fans are arriving at the Ahmad Bin Ali stadium ahead of kick off at 7pm. The team now know that they'll be facing either Senegal or the Netherlands should they make it into the next round of the World Cup.
Michael Jones29 November 2022 17:31
1669742568
Kalidou Koulibaly scores as Senegal overcome Ecuador to clinch World Cup last-16 berth
A expertly-executed volley from Chelsea centre-back Kalidou Koulibaly sent Senegal through to the last 16 of the World Cup for only the second time in their history after a 2-1 success over a heartbroken Ecuador.
With the Netherlands cruising to victory over Qatar to seal top spot in Group A across Doha, Senegal knew they had to win to reach the knockout stages for the first time since 2002, where the winner of England's group will lie in wait.
At the start of the tournament, the withdrawal of all-time top goalscorer Sadio Mane was the moment many believed Senegal's World Cup 2022 campaign would start to unravel, but other Premier League players past and present saw them over the line, with their colourful supporters unable to contain their emotions on the final whistle.
You don't get a more awe-inspiring spectacle than Ecuador against at a World Cup. Despite the exorbitant costs of travelling to Qatar, both sets of supporters headed to the Middle East in great number, wearing all manner of costumes, making all manner of noise.
Michael Jones29 November 2022 17:22
1669741189
England and Wales' group winner to play Ecuador, runner-up faces Netherlands
So, Group A has wrapped up, with Netherlands beating Qatar 2-0 to seal top spot, and Senegal edging past Ecuador to secure second place.
That means the winner of England and Wales' pool, Group B, will play Senegal, while the runner-up will face Netherlands.
Alex Pattle29 November 2022 16:59
1669741134
Full-time scores in Group A
Netherlands sealed a comfortable win over hosts Qatar and top spot in Group A thanks to goals by Cody Gakpo, his third in three games, and Frenkie de Jong. Meanwhile Senegal came out on top of their crucial clash with Ecuador to take second place – should England top Group B tonight then Senegal will be their last-16 opponents.
Lawrence Ostlere29 November 2022 16:58
1669740006
Andre Onana hits out at Cameroon manager Rigobert Song after being cut from World Cup squad
Cameroon goalkeeper Andre Onana claims there has "been no will on the other side" to resolve the stand-off which resulted in him being suspended by the country's football federation.
Amid pre-match reports of a training ground bust-up with head coach Rigobert Song, Inter Milan stopper Onana was left out of the squad to face Serbia on Monday, with the Cameroon federation later confirming it was for disciplinary reasons.
Cameroon fought back from two goals down in a thrilling 3-3 World Cup draw which keeps alive their hopes of progress from Group G.
Afterwards, Song accepted he had taken a "big risk" in not including Onana, but stood by the decision, stressing his role was to "put the team first ahead of an individual".
Onana, who reportedly left the team hotel and travelled to the airport on Tuesday, maintains "representing Cameroon has always been a privilege".
Karl Matchett29 November 2022 16:40
1669739106
Nadia Nadim: ITV World Cup pundit returns to air just days after mother killed in road accident
ITV World Cup pundit Nadia Nadim has been praised for her "unbelievable bravery" after returning to the studio just days after her mother's heartbreaking death.
Nadim confirmed the news later that evening in an emotional social media post but the 34-year-old returned to air on Tuesday, one week after her mother's death, for ITV's coverage of Netherlands against Qatar.
Nadim was welcomed back by co-pundits Nigel de Jong and Joe Cole, while host Laura Woods opened the broadcast by allowing Nadim to say a few words about her late mother.
Karl Matchett29 November 2022 16:25
1669738206
England fans banned from Cardiff pub for Wales World Cup clash
England fans have been banned from watching the crunch World Cup 2022 clash between England and Wales in a Cardiff pub that believes they would disrupt the "safe and friendly atmosphere."
It's the first time England vs Wales has been played at a World Cup and both sides are still able to qualify for the last 16, although Wales's task is considerably tougher as they not only need to win against a side they haven't beaten since 1984 but likely also require the USA vs Iran match being played concurrently to end as a draw.
Given everything at stake, O'Neill's pub in central Cardiff – on the corner of St Mary Street and Wood Street – have decided to ban England supporters from watching the 7pm kick-off on Tuesday evening, making it a Wales-only zone.
Karl Matchett29 November 2022 16:10