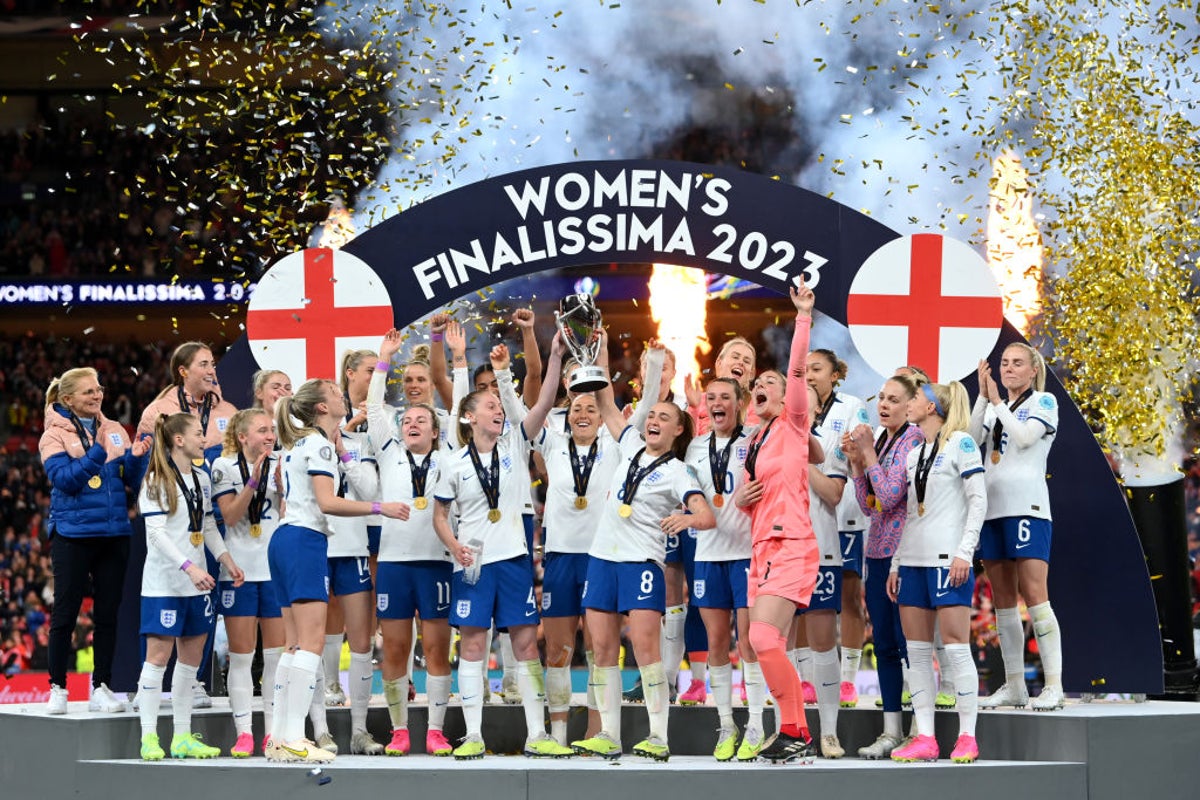 England win the Finalissima, and Sarina Wiegman gets some much-needed answers. There's no question which will be more important ahead of the World Cup, but as Chloe Kelly wheeled away following her latest Wembley moment it was almost as if the Lionesses were back at the Euros again. Victory over Brazil here adds to wins against the United States and Germany, and if it feels like the Lionesses are knocking off the continents, the world is next.
But it very much depends on how you view this. As a one-off final, England won. They took charge from the start, scored when they were on top, but rather escaped after allowing Brazil back into it. Indeed, as an examination ahead of the World Cup, there were some difficulties here, and some flaws and vulnerabilities that a match of this level may not have otherwise revealed. Wiegman is likely to care far more about the latter, and it's far better to know about them now than in July when England will go to the World Cup as one of the favourites.
England's opener, scored by Ella Toone midway though the first half, proved why that is the case. It was a wonderfully crafted goal, created by an incisive exchange of passes between Lucy Bronze and Georgia Stanway. It came after a period of possession that pinned Brazil into their box, built from back to front, and in that moment England looked a class above the South American champions. But it did not last: England were often careless, frequently caught out, and eventually Brazil punished them in a far more even second half.
Yet England were far from perfect against Germany in the Euros final, either, but won. England showed impressive mental strength to win the shootout, particularly Mary Earps – who spilled for Brazil's equaliser but bailed the Lionesses out of trouble with a key save to deny Tamires. This is a team that is now unbeaten in 30 games under Wiegman, and have collected four trophies now during that spell. Ahead of the World Cup, the ability to win knockout football even when not playing at their best is a quality that teams spend years trying to create.
Wiegman will ensure the scenes at the end do not cover up the fact that England will need to be better. The England manager predicted her team would be challenged more defensively in the first of two games against top-10 opposition, and they were – just not from the start. The Lionesses had more than 80 per cent of the possession at half-time as Brazil, true to the word of their experienced head coach Pia Sundhage, set up in a compact and organised system that negated the country's traditional flair for the defensive stability typically associated with Sundhage's native Sweden.
Brazil let England have the ball but England frequently gave it straight back. The Lionesses were sloppy from the start, lacking rhythm, and it offered Brazil some fleeting moments of threat. But then England clicked. It wasn't an instant click, as the final movements of the Toone goal may have suggested, but it was rather a collective awakening from the European champions, a realisation that everything needed to be sharper, neater, quicker.
It was a joy while it lasted and Brazil, even with this obdurate back five, couldn't keep up. Even with the impressive Rafaelle marshalling, and the midfielders Kerolin and Ary shuttling obediently, once England found their gear it left Brazil's defensive discipline in the dust. England's entire structure allowed Bronze with space to bomb forward as the excellent Lauren James occupied defenders with her movement inside. The right-back combined wonderfully with Stanway to set up Toone and in that moment England looked a class above.
But the breakthrough eventually led to a change of approach from Brazil. England's play remained sloppy and the Lionesses continued to be caught in possession. It beckoned the South American champions to take confidence and as the intensity of their press sharpened, Brazil had three clear opportunities to level. Geyse, the Barcelona forward, was at the centre of the danger, first beating Jess Carter to set up a chance for Ary before forcing Earps to tip onto her crossbar, with the ball just about bouncing out of play.
It was far from the feel-good first half by then. As Geyse continued to cause carnage, England dropped deeper and deeper. The equaliser from Alves, as Earps spilled a cross from the right, had been coming but England showed remarkable spirit to pick themselves up again. Toone's miss handed Brazil the early advantage but then Earps stepped up. Rafaelle blazed high, and as Alex Greenwood edged England ahead the moment fell to Kelly, just as it did in July. For the Lionesses, though, this Wembley victory will serve as a lesson with bigger prizes on the horizon.