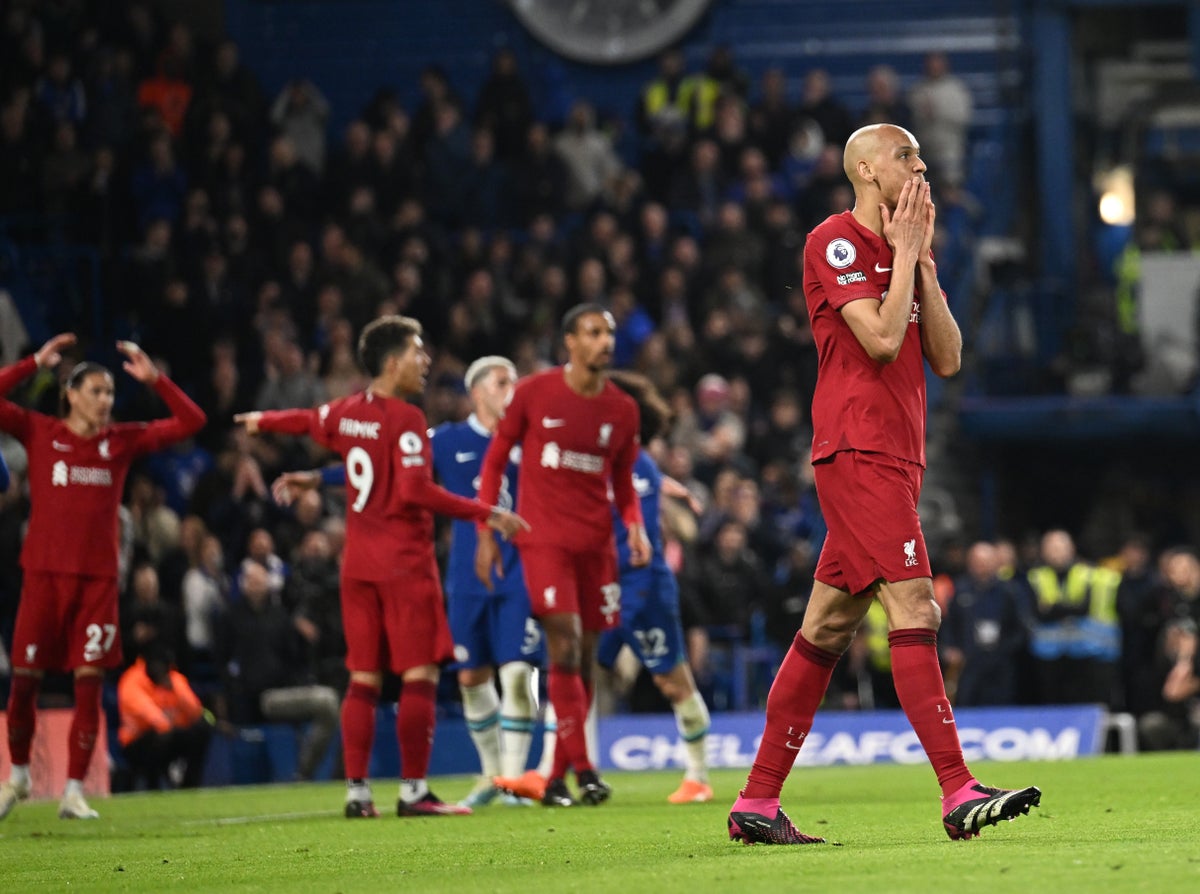 It's remarkable to think that, just months ago, Chelsea and Liverpool offered a domestic cup final of a high quality befitting their status as two of the best sides in the world. By contrast, the only reason you couldn't say this 0-0 draw at Stamford Bridge was one of the worst games of the season was that it was so entertaining for all the wrong reasons. It was sometimes hilarious.
It was also like something out of a different era, which is precisely why both of these clubs are having such serious discussions about what comes next. It was also exactly why this was, when you strip it all away, a mere mid-table match with so little to play for. There was so little play at all.
Far from the elite football of 2022, this game in April 2023 was like something out of the 1970s: thrown together; go out and enjoy yourselves. It was only those looking for a bit of a laugh who did the latter. Whereas the finest modern sides are supremely drilled in the most sophisticated tactical structures, this was instead two XIs that had never played together before, one of them under a stand-in manager who had never picked a team before. Bruno Saltor at least did himself credit with a first-ever career point, and a performance when his Chelsea side were the better team, even if that is all relative.
It was difficult to know what Jurgen Klopp was thinking, other than that this starting line-up was one of those that was so drastic because it was a desperate attempt to get a reaction out of his team. All of Mohamed Salah, Andy Robertson and Trent Alexander-Arnold were dropped, with Virgin van Dijk ill.
It was perhaps no surprise that Liverpool didn't even look like they could press any more, although that has not been exclusive to this match.
In this mind, they didn't look like they could do much of anything, particularly pass the ball to teammates or finish.
Far from the quality that elevated this fixture last season, this meeting was characterised by comedy. There were so many moments bordering on football slapstick. In one passage, Kepa Arrizabalaga badly misplaced a pass out, Jordan Henderson tried a wild effort, and the ball ended up hitting the back of Enzo Fernandez's head as he ran forward. Curtis Jones just fell over shortly afterwards, with Kostas Tsimikas failing to even hit the first man from a corner.
If that brought mocking laughter from the crowd, it wasn't a feeling shared on the pitch.
Joel Matip and Jordan Henderson had a heated discussion in the break to allow Muslim players to break their fast for Ramadan, with Klopp also roaring at his players. The dispute between centre-half and captain continued into play, with Henderson furiously stamping his feet after one bad Matip pass.
Later, the Reds' skipper and his goalkeeper Alisson also shared fierce words, as the errors kept on coming.
As if to sum all this up, the most creative players for either side often seemed those in the opposition. Some of the better opportunities came from mishaps and errors, Tsimikas twice setting Chelsea up for two early chances.
It was just entirely in keeping with the game, however, that neither side could finish in any way competently. There were so many remarkable efforts, players conspiring to clear the goal by good distances when not that far away. Among the worst was Mateo Kovacic, otherwise so measured in midfield, who badly skied a ball when put straight through. This was why Tsimikas's errors weren't that costly. Even when a player had the ball in the net, Kai Havertz having got clear of Tsimikas, the finish was straight at Alisson only for the ball to bounce off the German and back in.
A game as bad as this, however, ensured the ball of course hit his hand. It was ruled out. The one thing that could be said is that such moments were at least reflections that Chelsea seemed to have more structure and bite than Liverpool in this game. Their team at least seemed to make a bit more sense, other than the complete lack of a striker. That is perhaps inevitable, mind, when Klopp went for a starting XI as drastic as this.
Salah and Robertson eventually came on, although the left-back's first contribution was to play the ball straight to Enzo Fernandez. The Argentine did look much better than recently, closer to the class we saw at the World Cup. It's probably not a coincidence that came with N'Golo Kante beside him. Joao Felix meanwhile continued to show he is so good at almost everything on the pitch… except scoring, which is all too typical of this Chelsea. When the ball broke for him late on, he smashed it high into the stand.
Still, Saltor had a creditable first point. Everyone else watching had a bit of a laugh.