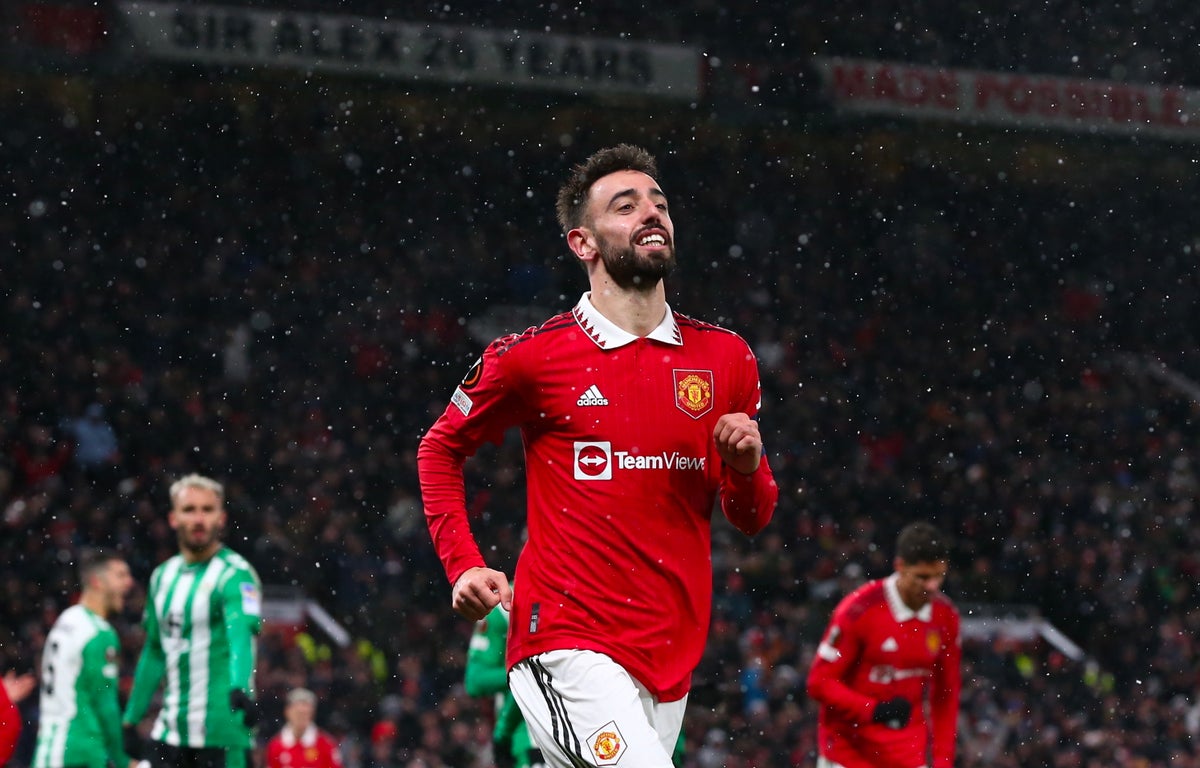 The captain timed his run to the near post. No giant, he nonetheless met the left-wing corner with a bullet header. Manchester United were in need of a response in a European tie and the driving force of a skipper had led with a goal. It was, most famously, Roy Keane against Juventus in 1999. In a lesser way – though any comparison may irritate Keane who, as Harry Maguire can testify, can be still more critical of anyone who inherits the United armband – it was Bruno Fernandes against Real Betis.
Keane's comeback came in the course of an evening, in a Champions League semi-final against Juventus in 1999. A Europa League last-16 tie scarcely has the same magnitude. Yet he became the face of United's heaviest defeat for 91 years: "a disgrace," according to Keane's successor Gary Neville, in the 7-0 thrashing at Anfield. There were calls to strip him of the captaincy. Erik ten Hag has shown he can be a disciplinarian who is unafraid to take on United idols, as Cristiano Ronaldo knows to his cost. The captaincy afforded Maguire no special privileges, as the defender discovered when he was dropped.
But Ten Hag instead delivered two homages to Fernandes: one before Betis arrived at Old Trafford, one after they were beaten 4-1. The picture of petulance may have led by the wrong sort of example at Anfield. He led by the right kind at Old Trafford: goals and assists were the twin methods he revived United in 2020 and they have been his calling cards since. But Ten Hag called him an "inspiration" on Wednesday. He certainly was on Thursday evening. In an all-encompassing performance, Fernandes had the most touches on the pitch, the most key passes, the most crosses. He was the prompter with a point to prove, the creator who was making a different impression, the scorer whose celebration, with his hands over his ears, suggested he had heard the accusations.
He could enjoy Ten Hag's verdict rather more. "Bruno was brilliant," the Dutchman said. "He led the team from the first minute by his game. I think he was the best player on the pitch. He shows his personality." That last word had an importance. United have had the odd unassuming captain, such as Michael Carrick and Antonio Valencia, but perhaps the size of the club dictates a need for big personalities for a big job. The United captaincy confers pressure; perhaps too much for Maguire, even if the context contributed to the collapse in his fortunes. He looked unnerved and undermined as his reign unravelled.
Briefly, the possibility loomed that his deputy would be another who suffered with the weight of the armband.
Fernandes' propensity for moaning and histrionics have made him less popular with opposing fans and he has been caught by a pincer movement also featuring United's ex-players. But, as some of them know better than anyone, United skippers are often found at the eye of a storm. Some gravitate that way.
Sir Alex Ferguson was unafraid to give added responsibility to those who could be magnets to controversy: Keane and Eric Cantona scarcely came from the school of skippers who were whiter than white. Each was an iconoclast and Keane became the defining United captain. Fernandes may have pushed a linesman; the Irishman's charge sheet as captain included seven sendings off, an arrest and an interview where his condemnation of his teammates was so explosive it brought his own departure. It is a more sanitised world now and if Fernandes risked a red card with a lunge at Betis goalkeeper Claudio Bravo, it almost felt a throwback to an earlier age: one of Keane's dismissals came for a stamp on Porto goalkeeper Vitor Baia. Ferguson usually excused Keane. Ten Hag wanted Fernandes to channel his aggression. "It is his strength, his passion, but sometimes he has to control it," he said.
He has already used Fernandes' various other strengths, turning what seemed a specialist No 10 into a multi-purpose player. Fernandes seemed miscast as a left winger at Anfield but he has often flourished on the right, proving surprisingly effective there. Against Betis, he showed he can be a compelling choice as a No 8. "He played a bit deeper role tonight and did it brilliantly," Ten Hag said. "He was the leader, making the game from the back in possession, making the rhythm of the game. He had a lot of good passes between the lines and from then on we make a lot of chances."
If Ten Hag has emerged from difficult scenarios with his authority enhanced, Fernandes may have ended a tough week with his position strengthened. Ten Hag's decision not to strip him of the armband was justified. Fernandes' response and the manager's words rendered it likelier he will have it on a permanent basis.
The stage seems set for Maguire to leave in the summer. Ten Hag has suggested his first-choice side has five main leaders, in Fernandes, Casemiro, David de Gea, Raphael Varane and Lisandro Martinez. At times, Casemiro looks the authority figure at the heart of the team, a more experienced and more decorated figure than Fernandes. There was a theory he could be the long-term captain.
But if the Fernandes regency could be an extended audition, a week that could have brought his demotion instead seems likelier to bring his coronation if Maguire goes. As the United fans chorused "Bruno", they may have been naming Ten Hag's choice.