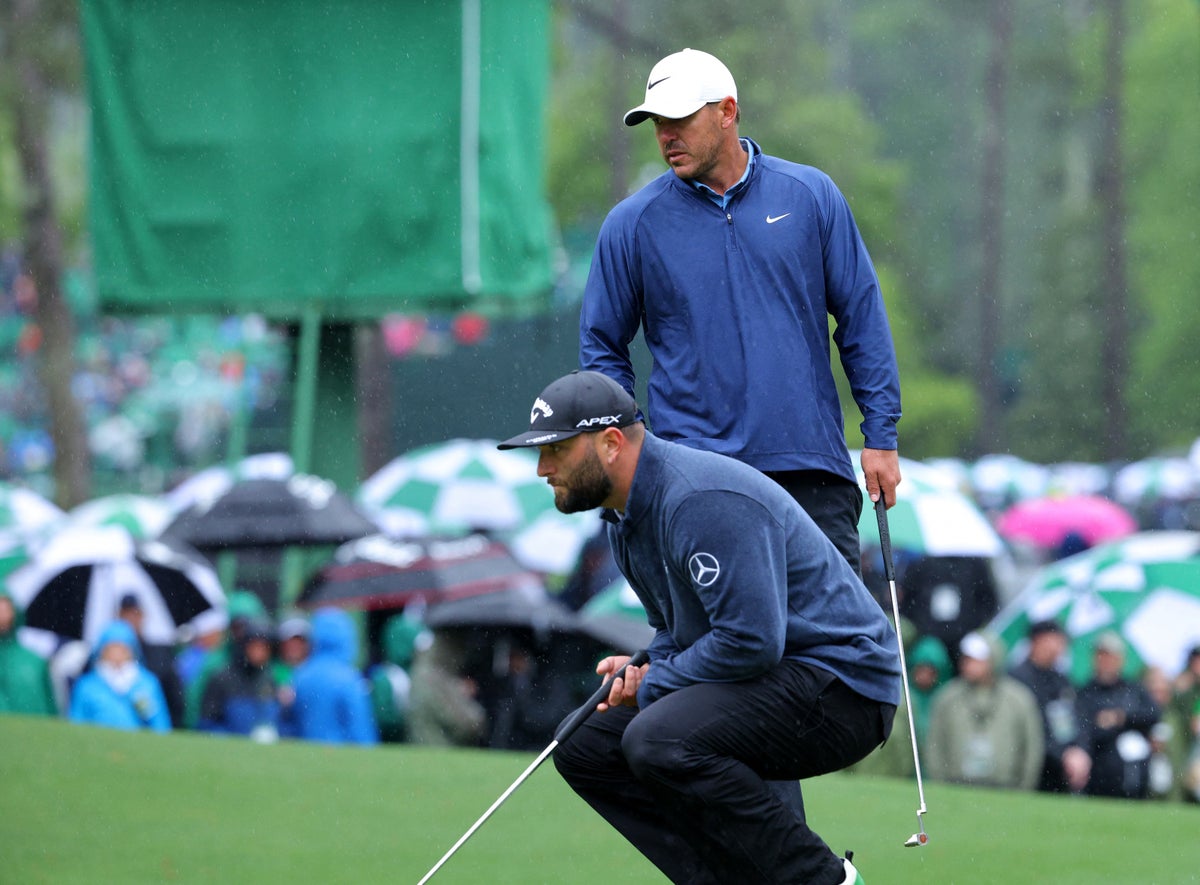 Brooks Koepka is leading the Masters by four shots and is the favourite to win. No one can claim they saw this coming.
For a 32-year-old who already has four major championships to his name, that notion speaks volumes about the fall from sporting grace that Koepka has experienced since his dominant run two years prior.
It's not that people didn't want to see Brooks Koepka contend at the Augusta, it's that few truly believed he could.
Injuries reduced him to two missed cuts and two 55th-placed finishes at the four majors last year. Fast forward another 12 months and he had largely been removed from golfing consciousness. Whisked off and recruited to LIV Golf for $100m, many thought that resembled an early withdrawal from golf's true elite.
And yet, here we are. Knee injuries behind him and with public scorn over his move to LIV long since subsided, Koepka has reaffirmed his place amongst the game's best. And his first three days at Augusta was Koepka at his very best – a technical and mechanical dismantling of the Augusta National course.
No Bubba shot-making was required. No Spiethian escapes were needed. Instead, just sheer Brooksian force. One round of 65, another of 67 and only one bogey in total. The ball was always in the right spot, the temperament remained ice-cold and the results were there for all to see.
Even as the rain fell on Saturday and scores tumbled around him, he remained true to kind. Tiger Woods double-bogeyed successive holes, even Rahm fell to back-to-back bogeys. Koepka? Not even a blink. Five pars, one birdie and four shots clear when the hooter sounded.
Koepka's historic run that saw him capture his four major champions was typified by such calculated brilliance. To see him find it again after 18 months in golfing purgatory is a welcome sight.
None of this is to suggest that Sunday's action is a coronation, though. If ever there was a golfer hand-picked and moulded for the role of hunting down Koepka, it would be Rahm.
Koepka's resurgence may have stolen the headlines but Rahm's display over the last two and a half rounds is what many have come to expect from the Spaniard who won three of his first five events in 2023.
A double-bogey six on the tournament's first hole could have been the opening lines to a golfing tragedy. Rahm, instead responded in emphatic style with a nine-under-par stretch through the remaining 17 first-round holes to finish as the joint leader at the end of Thursday's play.
And while Koepka was given the good fortune of the better half of the draw – in the clubhouse before the storms commenced on Friday – Rahm had no such luck. One only had to look at the six-over-par back nine of Justin Thomas on Saturday morning as he missed the cut to appreciate that scoring was difficult in the cold and wet conditions.
Not for Rahm, though. There were bogeys on two of the last three closing holes but those were sandwiched between three birdies and a consummate display of ball striking in anything but comfortable circumstances.
He may have ceded two further shots to Koepka during the first six holes of the rain-interrupted third round but the 28-year-old remains well in the fight. With the next best challenger back at six under par, it is unlikely the green jacket will not be given out to one of these two men.
The course on Sunday should be damp and the greens receptive. There will be opportunities aplenty and there is arguably no man better equipped to take advantage, apply pressure and claw back at Koepka's lead than Rahm.
With that tantalising prospect, Sunday's viewing should present an enthralling watch. Perhaps not since Phil Mickelson and Henrik Stenson in the 2016 Open has this calibre of a two-horse race been presented to viewers of a major championship.
That day delivered one of golf's greatest duels in recent major championship history and after all the wet and rain of Saturday, Augusta and its patrons will be praying for something similar to play out over the final 30 holes on Sunday.