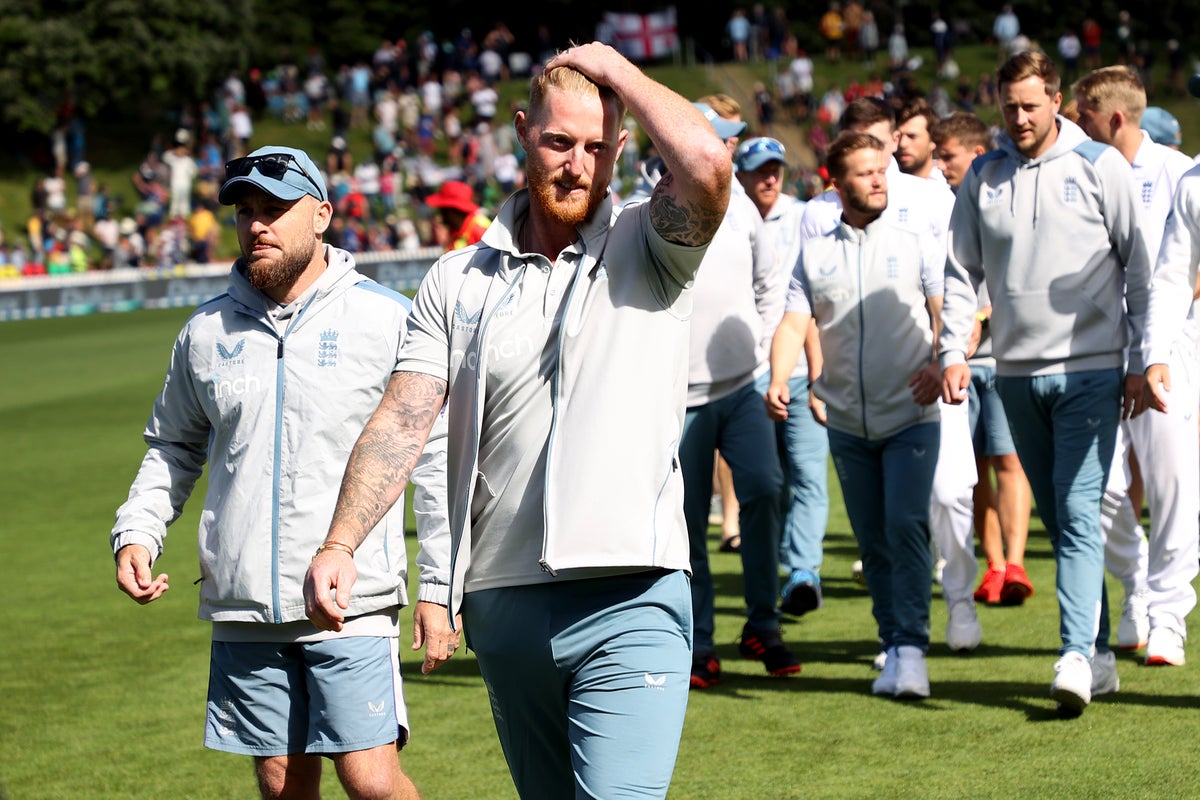 What was the most 'Bazball' moment of this wild Test match? There were a few candidates, like the final throes of day one after New Zealand had been battered into submission by Harry Brook and were forced into T20 fielding, with one slip and men scattered along the boundary rope, only to see Brook scoop over his shoulder for another audacious six.
Or perhaps it was Ben Stokes' unnecessary declaration on 435-8, which felt more like a psychological powerplay than a strategic ploy; or his enforcing of the follow-on which, with hindsight, lost England the game.
But the instance which made you feel most deeply lost in an episode of Stokes-McCullum Test cricket came just after tea on day four. The follow-on had not produced desired rewards for England, who had now been toiling for a couple of days in the field, and their exhausted bowling attack was falling to pieces as the Wellington sun began to dip. Amid the onset of delirium, Stokes threw the ball to Brook for a first foray into Test bowling, and a few minutes later England were in hysterics as DRS showed that one of the best batters in the world, Kane Williamson, had indeed given up his wicket to one of Brook's 65mph bumpers.
Yes, this was modern England at their quintessential best, and weirdest, and the strange part is that among all the scintillating victories and incredible fourth-innings chases, this thrilling one-run defeat by New Zealand was the clearest illustration yet of the unpredictable monster Stokes and McCullum have created.
Watching on from the safety of the BT Sport studio, Alastair Cook was softly aghast. England shouldn't have declared, he said, because Root could still have added another 30 or 40 runs, but then "this is how Ben Stokes thinks": not about reaching a safe score but about creating time – and seizing the right time, as evening approached – to take 20 New Zealand wickets.
England shouldn't have enforced the follow-on, Cook advised, because their bowlers needed a rest and their batters were going to face added pressure chasing in the fourth innings. But, he caveated once more that "in the Ben Stokes era" this is how it goes. It was said with an air of helplessness, like a parent watching their teenager ride off on a motorbike, and the thought came to mind to wonder whether Cook, England's record run scorer, would have even found a place in this team.
Stokes is a unique captain and he took genuine joy in being part of a historic match, only the fourth ever Test won by a team following on. He took defeat on the chin, reacting to the dramatic final ball, in which James Anderson prodded into Tom Blundell's gloves, like he'd just been told a good joke, grinning and bounding down on to the pitch to congratulate New Zealand.
"That is what you play Test cricket for, to be in those moments," Stokes said. "To be a part of that was amazing. What a game, it was crazy. If you can't look back at that Test match, even in our dressing room on the losing side, and just be quite thankful that you've been involved in a game like that … when can you?"
England's style rubbed off on New Zealand who at times got swept up in Bazball themselves, playing ambitious shots that fell into traps – often the quick hands of Ollie Pope at short leg. This England team force their opponents to ask themselves a philosophical question: how do I play this game? Williamson found an answer, to be himself. He is no longer New Zealand's captain but is still a leader, and now the country's record run-scorer, and his measured second-innings century was entirely at odds with Brook's blistering 186 off 176 balls in the first.
But England also ask questions of themselves. How much does winning matter? Hugely, Stokes insists, and yet the fact he needs to assert that at all is intriguing in itself.
"Test matches like that don't happen that often, they don't come around that often," he said. "You have to lose games to really appreciate how good it is to actually win. And, if you are going to lose games, you'd like to be involved in a game like that, instead of losing by 200 runs or whatever.
"It might sound daft because you've gone so close, but I just think everyone is appreciating this week for what it is. That doesn't mean for a second we're not fussed about winning or losing. We love winning, but if it doesn't work out that way, we'll hold our hands up and say the opposition were better than us."
England wrote another page here in their manual of how Test cricket should be played. They are coming up with new ways to compute winning and losing, too – there is glory to be found in valiant defeat, and for this captain perhaps that feeling even surpasses tepid and tentative victory.