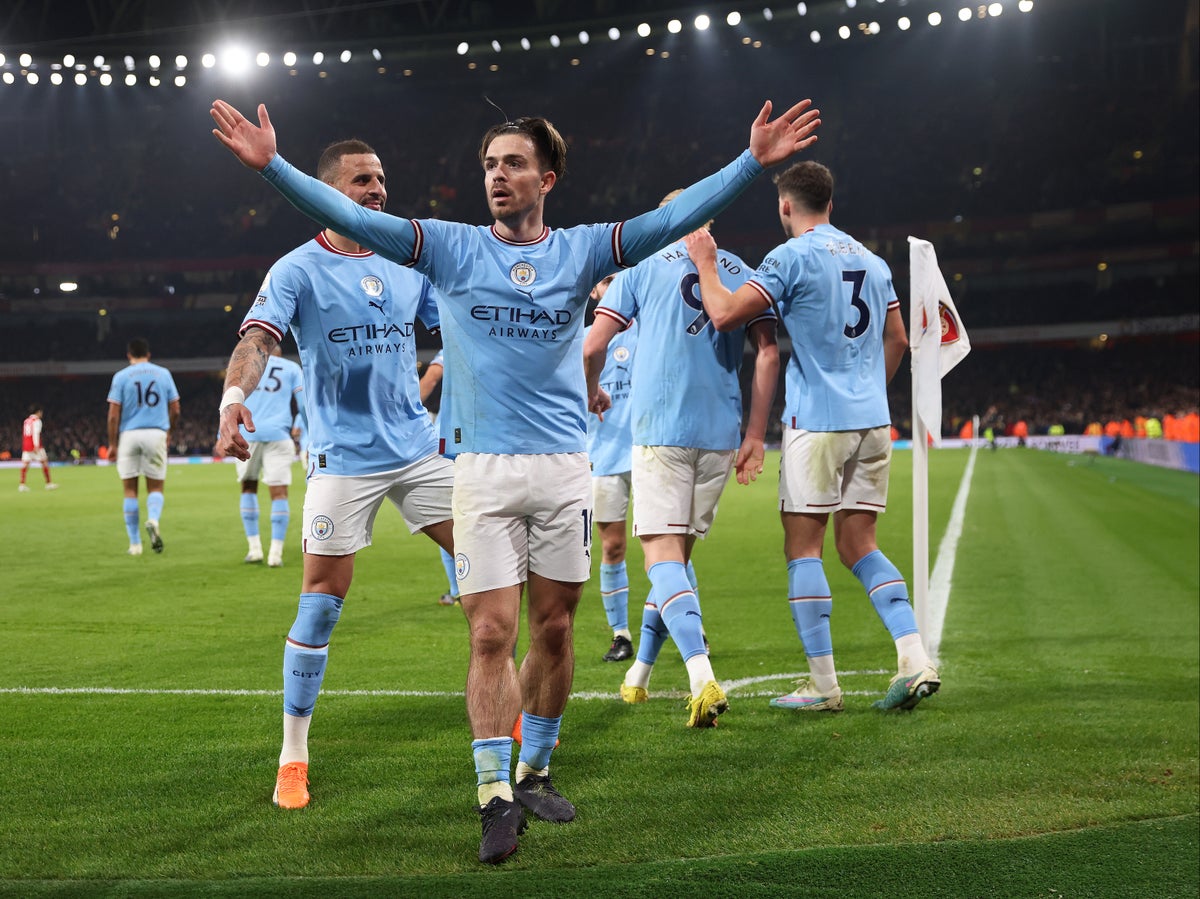 If there is now considerable doubt about Manchester City's recent past and future, there can be no debate about their present quality. They showed they are the best team in England, and maybe Europe, by returning to the top of the Premier League.
A cavalier but callow Arsenal were shown what is really required to win one of these games and perhaps the title itself. City's 3-1 win was a vintage champions' victory in that sense, something that Pep Guardiola will make all the more of a virtue of given the controversy swirling around the club with those unprecedented Premier League charges.
The team that could yet face the severest possible penalties look like they could well be lifting the trophy again, as they certainly looked like champions here.
They just had that bit more, and this might now be the beginning of the run everyone has been waiting for. That is no real shame for Arsenal given how they have overperformed already this season but this match had the feeling of where they went to the limits against City and just didn't have enough.
It didn't help that Eddie Nketiah, given all of the debate about his role, missed two big chances. That isn't to blame or criticise the young forward, it is more about the margins when it gets to the levels where it really matters. At the other end, Erling Haaland set up and then scored the two goals that sealed the game.
It wasn't all about City's state project superiority either. There was also the level of the manager.
Guardiola does deserve credit here for the way he undercut Arsenal by going over them, thinking one step ahead of his former apprentice in Mikel Arteta. That wasn't once, either, but twice.
The first was in how City started the game.
While it initially looked like City might seek to assert control over the pitch in that way they do, it quickly became apparent that they were giving up midfield. Guardiola was compromising one of his most prized areas, because he was all too conscious of Arsenal's pace. It wouldn't have been too often in football history that you could say one of the most successful ever managers was inspired by Brentford, but that was clearly what happened here. City sought to avoid the intensity of Arsenal's press by just going over them.
It was that which led to the opening goal. Ederson, well, launched it. Takehiro Tomiyasu, in for Ben White, struggled to deal with it and diverted a ball straight into the path of the strangely ineffective Kevin De Bruyne. Perhaps the Belgian was waiting for a moment like this. He still had a lot to do but did it beautifully, lifting the ball over Aaron Ramsdale.
You could have been forgiven for thinking it was his first touch, such was how City were playing over him.
Nor would it have been a surprise had that been that and the champions just asserted their superiority. It had seemed all the worse for them since Eddie Nketiah had just badly missed a headed opportunity moments before.
That wasn't the case, though. This is where Arsenal deserved credit themselves. They responded well once.
Arsenal upped the pressure on City to the point they were finding openings and angles. After one beautifully precise move at pace, Bukayo Saka just delayed his shot too long.
Arsenal were on it, though, to the point City felt they had to try and slow them down. Ederson took an age for every goal kick, until he was eventually booked.
It meant he was both fortunate and unfortunate for the next decisive moment of the game. The penalty for impeding Nketiah as the forward scrambled a shot off seemed soft but, if referee Anthony Taylor was going to give it, why wasn't it another booking?
Saka didn't bother himself with any of it. He put it into the corner. And if there might have been debate about the source of the goal, there could be no arguing Arsenal deserved to be level.
This was where Guardiola made his second key change, and again got ahead of Arteta. Riyad Mahrez was brought off for Manuel Akanji and City brought a completely different dynamic. Arsenal were suddenly scrambled, looking ragged and unable to respond in the same way.
Arteta struggled to react himself.
There was that growing sense of playing on the edge. That was illustrated by Haaland having a penalty ruled out for offside. City had worked Arsenal out. It was only a matter of time until they exploited it.
De Bruyne initiated a move that at last maximised Haaland's pace, the forward then sliding the ball across goal for Ilkay Gundogan to dummy and Jack Grealish to finish.
It was quite the goal, and quite the shift from left-back for the Portuguese, in-keeping with Akanji's introduction. It was also quite the night from Tomiyasu, given he deflected it past Ramsdale.
Arsenal tried to rouse themselves but this was only going one way. There was only one outcome, particularly when a Gabriel error saw the ball fall to Haaland in the area.
He took a striker's finish, for a champions' win.
Arsenal have seen what it takes. Everyone else watches on, for what next.